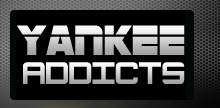 March 1, 2010 · Bronx Baseball Daily · Jump to comments
Article Source: Bleacher Report - New York Yankees
Chan Ho Park spoke with reporters about becoming a Yankee even though he had a better offer from the Phillies and also had an offer from the Washington Nationals.
Here are some quotes from his first day in camp :
On why he choose the Yankees : "It wasn't easy to make a decision, because a lot of teams asked," Park said. "But I'm trying to get a ring. That's the most important thing."
Park said he wanted to return to Philly, but that it was "too late" once he finally decided: "Philadelphia was the number one choice, and I had a tough time to leave there," Park said. "Now, it's a new team, so let's go to the next step."
On shaving his beard to conform the Yankees no facial hair policy: "I've got to do what I've got to do," Park said, rubbing his cheek.
Alex Rodriguez on facing Park in the World Series: "He had a great year last year," Alex Rodriguez said. "I faced him in the World Series. He had great movement and his velocity was up in the mid-90s. He looked good. I thought he was a great weapon for Philly, and hopefully he can be the same for us."
Brian Cashman on why he likes Park : "He throws harder," Cashman said. "We saw it in the postseason here and we saw it in the Dodgers-Phillies postseason the previous year, where he just came out of the 'pen with a plus fastball and a snap-dragon breaking ball.
"He just goes right after hitters. His personality and his tool-set seem to play up out of the 'pen. He'll just have to do it without a beard."
Cashman on Park arriving to camp late : "The one thing that we want to express to him is, don't rush," Cashman said. "You've got plenty of time. I know [he] was throwing a lot at home, but we've got to make sure that he's physically even before we start throwing him into games."
Cashman on keeping Edwar Ramirez : "Selfishly, we hope that we can keep him in the organization," Cashman said. "We'll know in the next 10 days how realistic that is."
Thoughts: I hope Cashman is right about Park and I'm glad the Yankees are interested in keeping Ramirez, but I don't see it happening. Ramirez is a reliever with one dominating pitch, there has got to be a team out there who thinks they can help him improve his fastball.
Related Stories
Read more New York Yankees news on BleacherReport.com