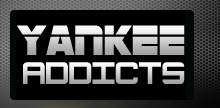 February 17, 2010 · Bronx Baseball Daily · Jump to comments
Article Source: Bleacher Report - New York Yankees
Brian Cashman has been the Yankees general manager since 1998, but it was only after 2004 when he really started taking over the team. Today, Hal Steinbrenner runs the budget, but Cashman seems like he's in charge of everything else. That is why when he speaks it's probably smart to listen.
When he speaks to NoMaas.org, you'd damn well better listen .
NoMaas spoke with him this week, and it was an interview only they could do. Cashman commented on a ton of things from the fifth-starter competition, Curtis Granderson, and even his ninja style (I'm not kidding).
Here are some highlights:
On How the Organization Has Changed Under His Rule
I felt like we were the Roman Empire where our operations were stretched far and wide. We weren't king of the hill in player development, king of the hill in amateur scouting, king of the hill on the major league side, king of the hill on the international side…we weren't maximizing our resources at any level. We had department heads making decisions for other departments that weren't their responsibility. Now, I have localized each department to their specific area and maximized their expertise in those areas for the greater good of the organization as a whole.
On the State of the Farm System
I traded nine-to-eleven prospects this offseason, but that is what the system is there for. You can utilize homegrown talent for yourself or you can use it to get what you want. And that can keep you out of the free agent market, because you have to overpay in the free agent market. Having a farm system allows you to acquire talent in the most cost-efficient way.
On Ninja Style
When it comes to major league acquisitions, I work with our pro scouting department and only include others when the circumstances warrant. By doing that, I limit leaks. I control what I'm working on and it's less likely to get out. And it works to our advantage.
On Fifth-starter Battle
Performance will dictate. [Joba] was inconsistent last year. He has completed his development program. May the best man win.
Long-term Future of Joba and Hughes
There is no permanent anything. Your team has to be flexible. The great thing is we have guys who have the ability to both go in the bullpen and start. If somebody gets hurt, somebody's performance suffers…Chad Gaudin can start and relieve, Sergio Mitre can start and relieve, Aceves can start and relieve, Hughes and Joba can start and relieve. These guys have the ability to succeed at both ends, some more than others.
On Dealing Austin Jackson for Granderson
Granderson is a "now player." What Granderson is currently doing in the big leagues, we didn't necessarily project for Austin Jackson. We thought Jackson would be an above-average everyday player. Did we see 30 HR potential? Not necessarily. It's easier to bet on Granderson than the projections of what Jackson may or will do.
On Centerfield Battle
If Gardner proves our team is better with him in CF and he can be an everyday outfielder…he has a lot to show in a short amount of time in Spring Training. We believe he is better in CF and we believe Granderson would be terrific in LF. But, Granderson was acquired to be our everyday CF and that is our expectation.
There were a couple more items on Reed Johnson/Randy Winn and the backup outfield situation as well as some stuff on Jesus Montero, but he gets a little more in depth. BBD will have posts on those today though, so stay tuned and see what Cashman had to say tuned for those.
Related Stories
Read more New York Yankees news on BleacherReport.com