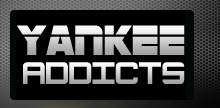 June 14, 2013 · Anthony Maimone · Jump to comments
Article Source: Bleacher Report - New York Yankees
The New York Yankees have proven many doubters wrong this season by being above .500 through the middle of June.
In reality, however, there is only one player on the Yankees' roster who is proving his worth and keeping a reeling Yankees' offense afloat.
Brett Gardner has had to deal with injuries and underestimations throughout his entire career.
Early on he had to battle for playing time and the chance to earn his keep.
Once he was thrust into a everyday, starting role in 2010, the whispers were that Gardner was nothing more than a Punch and Judy hitter with a ton of speed.
In what was supposed to be his breakout season in 2012, Gardner spent most of it on the disabled list. Now, in 2013, Gardner very well may be the Yankees' second-most reliable hitter behind only superstar Robinson Cano.
Gardner leads the Yankees in hitting so far this season with a .284 batting average. After a slow start, Gardner has taken off in June while the rest of the Yankees have slumped drastically.
As a team, the Yankees are only batting .219 in June while Gardner is batting .378 for the month. His hot play earned him an AL Player of the Week Award as well in June.
What has really been impressive about Gardner this season is that he has been successful in areas of his game that are typically his weaknesses, although he has slacked off among his expected strengths.
Gardner has shown an increased pop in his bat early on, as his six home runs are only one shy of his career high. He is also on pace for career highs in hits, doubles and RBI.
On the other hand, Gardner has barely run, and when he has, he hasn't been that successful with only 10 stolen bases in 15 attempts this season.
Gardner has attributed his lack of attempts due to batting in front of Cano and not wanting to take the bat out of Cano's hand on intentional walks.
While his power surge isn't expected to continue, one would assume that Gardner will eventually get his wheels turning on the basepaths again.
In his two previous healthy seasons, Gardner amassed over 40 stolen bases. He is off that pace so far this season, but is probably just getting started.
I'll be the first to say that I was never sold on Gardner as an everyday player, but seeing his effort every game this season—he hasn't missed one yet—makes me think that Gardner could be a staple in the Yankees' plans for many seasons to come.
Read more New York Yankees news on BleacherReport.com