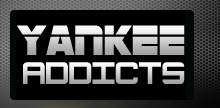 October 25, 2010 · Dan Hanzus · Jump to comments
Article Source: Bleacher Report - New York Yankees
My first weekend without Yankee baseball had me feeling how I imagine Mark Teixeira feels before his postseason at-bats: confused, helpless, and resigned to a fate that cannot be avoided.
The World Series is starting on Wednesday, and I can tell you I'll probably only have a cursory interest in it. Whenever the team that eliminated the Yankees advances to the Fall Classic, I have trouble rooting for anything but horrible things to happen to the American League entrant.
So, instead of sitting in front of my television pulling for recreational drug relapses, I'm going to keep my attention on the Yankees. More specifically, it's time to examine the state of the Core Four.
Ah yes. You've heard of this group, correct? From now until Cliff Lee becomes a free agent, the status of free agents Derek Jeter, Andy Pettitte, and Mariano Rivera will be the dominant topic regarding the team.
Ultimately, I expect each of the players, including Jorge Posada — who's under contract through 2011 — back in pinstripes come spring time. It's hardly a given though.
Rivera turns 41 in a week, and has always struck me as the type of player who would abruptly retire before being the guy who hung around a year too long. I just can't picture Mo going on the Roger Clemens-patented victory lap tour, can you?
Andy Pettitte was talking like a man ready to hang it up on Friday night, but let's face it, Andy's been saying that stuff since he was 32. I think he's always underestimated how much it means to him to compete. God is great, and so are the wife and kids in Texas, but shutting down the Red Sox on a September afternoon in Fenway Park is a different animal altogether.
And Jeter? Put it this way, it's going to take a major, major catastrophe in communication for Jeter not to re-sign in the next month or so. For how long and for how much is really all there is to debate. That's not to say the negotiations don't have the potential to turn cantankerous. The mediocre nature of Jeter's walk season have made things much more complicated than they would've been had his contract run out a year ago.
Here at River & Sunset, we're all about distilling complicated issues down to a base form that everyone can understand. This is one of the trickiest free agent periods in Yankee history, so let's break down the different ways in which it can play out for the Core Four.
JORGE POSADA
Best-case scenario
Motivated by talk that the Yankees will move on in 2012, Posada re-dedicates himself and has the best season ever by a 39-year-old catcher. Not only is he productive, he is lauded by the front office for his tutelage of uber prospect Jesus Montero, now his backup. The Yankees re-sign him to a one-year deal to become a player/coach in 2012, he retires and becomes Girardi's bench coach in 2013, then ascends to manager later that season when Girardi's binder — now well over 40 pounds in weight by this point — falls from the top of a tall file cabinet and hits him in the head, rendering him a simpleton. His wife, the spectacular Laura Posada, poses for Playboy.
Worst-case scenario
Posada suffers through an injury-plagued 2011, and becomes such a liability behind the plate that he is essentially a designated hitter by July 1. He resents Montero, and chooses not to help him in his adjustment to the big leagues. His relationship with Girardi, already rocky prior to the season, gets physical when the manager asks Posada to take Ramiro Pena's job as official ceremonial first pitch catcher. Laura Posada poses for Playboy, then leaves him for 84-year-old walking corpse Hugh Hefner. Posada moves to Fort Lauderdale and replaces Jim Leyritz as the city's most notable alcoholic ex-Yankee catcher.
Most-probable scenario
Posada gets around 400 at-bats in 2011, hitting 17 homers with 68 RBI. He remains a liability defensively, but the bulk of the work behind the plate goes to Montero anyway, which Posada is fine with, seeing the youngster's potential. The Yankees offer Po a one-year deal in reduced role in 2012, but he opts to retire. At around that time his Hall of Fame credentials will be discussed vociferously, with Mike Francesa giving the hand wave to anyone who doesn't think Posada belongs in Cooperstown. "Yawhhre lawwwwst!" Posada disappears from the public eye for a few years to spend more time with his hot wife and young children in suburban Rockland County, N.Y. He returns as a Yankee coach by the end of the decade.
ANDY PETTITTE
Best-case scenario
Pettitte signs a one-year deal for $10 million, then never misses a turn through the Yankees' rotation all season. He becomes the oldest left-hander to win 20 games in the modern era. He's once again the team's rock in October, winning three more starts to build on his own record for postseason victories. After the season, he hems and haws about retirement, then signs his third consecutive one-year deal. Lather, rinse, repeat.
Worst-case scenario
Pettitte retires. He returns to Deer Park, Texas, then quickly realizes how boring it is when you have nothing to do and live in Deer Park, Texas. He shoots a few more Dove "Journey To Comfort" commercials, and when the company discontinues the campaign, he starts making his kids shoot fake commercials of him using the family camcorder. Roger Clemens moves into the guest house and starts eating all the food. The Yankees come calling in July and Pettitte's out the door before Brian Cashman hangs up the phone. Unfortunately, an arm injury derails his comeback. On the back page of the Post, a picture of a crestfallen Andy is accompanied by the headline, "Journey to (Elbow) Discomfort".
Most-probable scenario
Pettitte returns on a one-year deal for $10 million. He has one DL stint for a leg injury of some kind, but still makes 27 starts, winning 14 games. He remains a very capable No. 3 starter, and the team trusts him fully come playoff time. When Posada announces he's not returning, Pettitte takes it as a sign that the time has come for him as well. He retires as one of the winningest pitchers in franchise history. His PED admission keeps him out of the Hall of Fame, but the Yankees retire his number and he joins the YES team as a part-time analyst shortly thereafter.
MARIANO RIVERA
Best-case scenario
The Yankees and Rivera come to terms on a two-year deal, $30 million deal. Mo doesn't show any signs of slippage, astonishing baseball experts. He retires as MLB's all-time saves leader, with his reputation as the game's best postseason reliever ever firmly intact. Dave Roberts is caught in a Dateline "To Catch A Predator" sting, where Rivera — serving in a Steven Seagal-like celebrity deputy role — tases the former Red Sox outfielder as "Enter Sandman" blasts from a nearby police cruiser.
Worst-case scenario
Rivera returns, but from the onset of spring training, it's clear that his cutter has lost considerable movement and velocity. He is rocked for two straight months before the Yankees reluctantly remove him from closer's role. Metallica sues Yankee Stadium claiming copyright infringement, and Rivera is forced to change his entrance song to Miley Cyrus' "Party In The U.S.A." Rivera is DFA'd in August and, in desperate need of cash following the Metallica lawsuit, takes Wade Boggs' place as celebrity spokesman for Medical Hair Restoration. Tragically, the procedure fails for Rivera, rendering him a ghoulish freak.
Most-probable scenario
The Yankees and Rivera come to terms on a two-year deal, $30 million deal. He becomes less reliable on back-to-back days, which leads Girardi to become more judicious about how he uses him. As a result, Rivera's save total drops to the 25-30 range. Following the 2013 season, he retires and opens a monastery in his native Panama. On his periodical returns to the Stadium, fans lose their shit. If they're smart, Yankees will have the G.O.A.T. make his entrance on Mariano Rivera Day through the bullpen doors accompanied by James Hetfield's menacing guitar intro.

DEREK JETER
Best-case scenario
Jeter signs a five-year, $75 million deal. He changes his workout and diet regiment, and turns back the clock in the process, winning the Silver Slugger award in back-to-back years. He moves to left field in 2013, and through sheer will and determination, he makes himself an above-average defender at the position. The Yankees win the World Series in four of his last five seasons and he retires tied with Yogi Berra for most rings all time. He leaves the game with 3,803 hits, ranking him third all-time. His marriage to Minka Kelly is a successful and fruitful one, with many baby shortstops and smokin' brunettes created.
Worst-case scenario
Jeter's contract negotiations with the Yankees turn nasty, and in a desperate grab for attention, the Mets steal him away with a four year, $72 million deal. He gets the Mets stank on him and his offense and defense falls off a cliff, forcing stat geeks to completely recalibrate how they tabulate UZR. Minka Kelly turns out to be a gold digging monster who leaves him for Ken Huckaby, the scrub catcher who dislocated Jeter's shoulder in 2003. He retires a rich, but very bitter man, rarely leaving his mansion. He eventually beats a errand boy to death with a bowling pin and lives out the rest of his life behind the walls of a Florida state penitentiary, where cellmate Jim Leyritz never stops talking about Game 4 of the '96 Series.
Most-probable scenario
The Yankees offer Jeter a three-year $50 million deal with a host of post-retirement perks. He shops it around, realizes a better deal for a 36-year-old shortstop isn't coming, and signs the contract. He bounces back from his 2010 season with a much more Jeter-like 2011, finishing with a .300 average and 190 hits. His defense at shortstop slips, but he gives the team an out by volunteering to work in the outfield. By the final year of his deal, he's a LF/DH guy and .270 hitter. He retires with 3,420 hits and is elected to the Hall of Fame five years later. He becomes the team's greatest living icon and is the main attraction of every Old-Timers Day for 40 years. He's a legend, considered an equal alongside Ruth, Gehrig, DiMaggio, and Mantle.
Dan Hanzus writes the Yankees blog River & Sunset and can be reached at dhanzus@gmail.com. Follow Dan on Twitter @danhanzus.
Read more New York Yankees news on BleacherReport.com