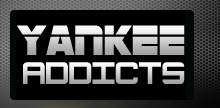 October 17, 2011 · Joseph Browne · Jump to comments
Article Source: Bleacher Report - New York Yankees
Heading into the 2011 season, and during the season itself, the conversation surrounding the Yankees centered almost entirely around an uncertain starting rotation. This talk was justifiable, of course, as the Yankees, in all games not begun by C.C. Sabathia, were typically starting someone who was either too brittle, too inexperienced, too unreliable or just too much of an unknown.
As the season progressed, though, the starting staff began to over-deliver on expectations on a routine basis. It is forgotten, for instance, that A.J. Burnett was actually a serviceable pitcher through June, posting an ERA that was just a shade above four during the first three months of the year.
Additionally, steady and sometimes spectacular performances from Bartolo Colon and Freddy Garcia became commonplace, and Ivan Nova, prior to his undeserved demotion in July to Triple-A to make room for the injured/struggling Phil Hughes, was beginning to demonstrate that he was a legitimate part of the Yankees' pitching future.
There were hiccups along the way, without question, however when the season was over the Yankees rotation as a whole had performed exceedingly well, and actually wound up posting an ERA of 4.03, good for fifth-best in the American League. Combined with a powerful bullpen that led the league in ERA, the Yankees could feel very good about how the team fared from the mound.
2012 promises to pose a number of pitching-related questions, some of which are addressed in a previous column in this space. It will not be an easy road for the Yankees to repeat the 2011 results that virtually anyone would concede were unlikely, and the team will be facing decisions on internal and external fixes that will have a lasting impact on the organization's expectations for next decade or so.
One such decision, for example, will be whether to pursue free-agent-to-be C.J. Wilson, but the organization appears to have either soured on Wilson as an option, perhaps among other reasons due to the A.J. Burnett debacle, or they weren't truly interested in the investment to begin with.
As complex as the Yankees pitching situation is, however, what appears to be going unnoticed by the Yankee brain trust is an offense that has developed some considerable holes. Evidence of what can only be described as either outright denial or incompetence regarding the team's offensive outlook is contained in a quote that was included in a blog posting by Joel Sherman of the New York Post. Quoting a nameless Yankee official, Sherman reveals a blind spot that exists organizationally as it regards the Yankees' offensive capabilities
"Our offense is fine, it doesnt make any sense to allocate more dollars and risk there," another official said. "Even if we lose CC [Sabathia], what sense would it make to spend the money on more offense when what we need would be starting pitching."
Anyone who watched the Yankees lose the ALDS to Detroit in five games knows one thing for certain—the Yankees offense is not "fine," unless it's the kind of "fine" a husband gets from his wife when he knows she already wants him out of her sight.
While the offense did produce eight runs in Game 1 and 10 runs in Game 4, Games 2, 3 and 5 saw the Yankees offense produce a combined total of 10 runs. Furthermore, the eight-run output in Game 1 was not as a result of a sustained attack from the lineup as a whole but rather the result of an epic game from Robinson Cano alone. Cano drove in six of the eight runs scored, so, in essence, it was Cano 6, Detroit 1 more than it was Yankees 8, Detroit 1.
In Game 4, where the Yankees produced 10 runs, it should be remembered that the Yankees scored six runs in the eighth inning, and though they had a three-run lead heading into that frame it was the first and last time in the series where the entire team contributed to a rally.
You may have noticed that there has been no mention thus far of the Yankees' regular-season offensive production, and there is a reason for this. While the Yankees did lead the league in a number of categories, and had the best overall team performance from March/April through the end of the regular season, this is the second consecutive year where the offense has disappeared in the postseason.
Key pieces of the Yankee offense, namely Alex Rodriguez, Mark Teixeira and Nick Swisher, have been nonexistent for the past two postseasons, and Teixeira and Swisher can also claim ownership of very poor performances during the 2009 run to the title.
What this clearly indicates is the reality that the Yankees offense is perfectly suited to dominate the mediocre pitching that fills out the majority of the regular-season schedule. When faced with the superior arms typically faced in the postseason, however, the team simply does not appear capable of responding.
Simply stated, critical performers such as Rodriguez, Teixeira and Swisher have significant holes in their game that are more easily exploited by talented, well-prepared staffs.
Breaking down the lineup position by position, it becomes clear that, heading into the 2012 season and beyond, the Yankees should have concerns about virtually every regular in the lineup in terms of projected regular and postseason contributions. With the exception of Cano based on his recent and projected performance, every position player can be considered suspect to one degree or another from an offensive perspective.
This reality even applies to Curtis Granderson, not based on recent performance of course, but rather based on what can be realistically projected for him going forward. Granderson had a career year in 2011 in every meaningful way, and as a result his totals for this past season cannot simply be penciled in as an expectation.
A quick review of the remainder of the projected 2012 lineup, when the blinders are stripped away and reality is imposed, reveals some startling truths:
– Mark Teixeira, coming off of two consecutive seasons of batting roughly 45 points below his career average through 2009, is a true concern. His approach as a lefty hitter is simply not sustainable, and he has effectively eliminated opposing teams from being concerned with him going to the opposite field from that side of the plate. If Yankee hitting coach Kevin Long is unable to close the huge holes in Teixeira's lefty swing then there can be no expectation of things changing for the upcoming season.
– Nick Swisher, a great find and a complete bargain for the past three seasons, is along with Teixeria the poster boy for Postseasonitis. Swisher has over-delivered in all three of his regular seasons with the team only to disappear completely when the weather starts to change.
– Derek Jeter, owner of a glory days kind of second half, remains a question mark. His power numbers are still well below his historic levels and three months of world-class performance does not a season make. There are fewer questions about Jeter heading into the 2012 season than there were heading into the 2011 season, but there are questions nonetheless.
– Russell Martin, he of the wonderful offensive performance of March/April and May, is without question a tremendous asset behind the plate. That said, he struggled mightily for the final four months of the season, never approaching even a remote resemblance to the hitter he was early on.
– Brett Gardner, while a Gold Glove-caliber left fielder, cannot be considered a consistent offensive performer as of yet. Gardner has far too many extended slumps to account for and, additionally, he strikes out far too often (194 K's over the past two seasons) for someone expected to develop into a legitimate leadoff option.
– Alex Rodriguez, the most enigmatic of the bunch, is the true linchpin to the entire Yankee offense, specifically as it applies to postseason prospects where one player getting hot can mean the difference between moving on or dusting off the golf clubs. He was healthy through early June of 2011 and then a combination of injuries undermined what projected to be a 30 home run, 120 RBI-type season. If he cannot produce out of the middle of the lineup when it counts the Yankees will struggle to advance beyond the first round of the postseason, presuming of course they earn a spot in the tournament.
Regarding internal solutions to the Yankees' offensive deficiencies, at this point the entire Yankee organization can boast of possessing a grand total of just two legitimate prospects that have a chance of impacting the 2012 season offensively, namely Jesus Montero and Eduardo Nunez.
After Montero and Nunez there are some potentially promising youngsters, Dante Bichette Jr., Gary Sanchez, Slade Heathcott and a few other possibles, however none that are on the radar for 2012 and perhaps not until 2014 and beyond.
When it's considered that Yankees management appears determined to focus on addressing the organization's perceived pitching needs, while essentially ignoring the glaring needs in the lineup, the strong possibility exists that the team will unload at least Montero and possibly Nunez as well in exchange for front-line starter help.
If the decision is made to trade away Montero and/or Nunez to plug holes in the rotation the organization will have exhausted all near-term internal solutions to the pending implosion on offense. It begs the question of why in the world Brian Cashman has gone to the trouble of developing all of the promising young arms in the Yankee pipeline only to ignore them as solutions to current needs.
Furthermore, if the Yankees do in fact trade away Montero and/or Nunez for starting pitching help, at some point they will more than likely be forced to use their own pitching prospects in return for help on offense, at least in the near term.
Due to long-term contracts at third base, first base and shortstop, and based on the fact the team will not likely be looking to unload Robinson Cano or Curtis Granderson, the Yankees are limited in terms of the amount of position players they can move.
This essentially leaves right field, left field and catcher as the only positions the Yankees can upgrade offensively in the near term, and catcher can be eliminated from the discussion because the Yankees appear intent on using incumbent Russell Martin for the 2012 season at least.
That leaves left field and right field as the only likely positions where the Yankees can upgrade offensively, and there are no free-agent options available this offseason that would provide the kind of long-term, impactful solution the Yankees need to counteract the projected decline of Rodriguez, Jeter and perhaps even Teixeira.
The Yankees, therefore, are victims of their own largesse in the long-term contract category. They also appear to be the only franchise in the league incapable of simply granting a well-deserved role to a hitter, Jesus Montero, who's been compared to Miguel Cabrera and Manny Ramirez.
As we've addressed, rumors persist that Montero will be dealt for starting pitching, and this despite the fact that there do not appear to be any starters available via trade that are worthy of sacrificing a projected .300/30/100 RBI-type hitter for.
So, to recap, the Yankees are left heading into the 2012 season in essentially the same condition they entered the 2011 season, faced with abundant question marks surrounding the starting rotation and with a lineup that is perfectly designed to feast on mediocrity.
Additionally, if comments attributed to high-ranking Yankee officials are reflective of actual organization-wide thinking, they will be ignoring internal solutions for their rotation and opting to unload coveted offensive prospects for external solutions that do not represent an equitable return.
If these nuggets straight from the front offices of Yankeedom hold true, which appears if not likely then at least probable, there is one thing for certain; columns very similar to this one will begin appearing again right around this time next year, just as the Yankees have staggered to yet another premature ending to their season.
Read more New York Yankees news on BleacherReport.com