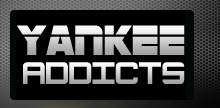 April 9, 2010 · Joseph DelGrippo · Jump to comments
Article Source: Bleacher Report - New York Yankees
It was only one game into the 2010 baseball season for New York Yankee fans, there were 161 more to go, but panic was in the air. The newest addition to the bullpen, Chan Ho Park, was roughed up. Curtis Granderson reiterated to all involved that he couldn't hit left-handed pitching, CC Sabathia couldn't last through six innings, and Joba Chamberlain's performance in the eighth inning indicated that he couldn't get out batters whether he was a starter OR a reliever.
The Yankees started out terribly last year too. Don't you remember the Yankees dropped their first two games last season at the Baltimore Orioles?
Of course you do, because you panicked last year when Sabathia got knocked around on Opening Day 2009.
But this was the Boston Red Sox on Opening Day; the same Red Sox who would have Jon Lester—who is 3-1 with a 3.88 ERA in eight career starts against the Yankee—going during the second game. The same Sox who were 8-0 versus New York last year before the Yanks won 10 of the last 11 of the season series.
But the Yankees righted the ship, beating Boston in two straight games and winning both those games late. Park was much better, Granderson had another big home run, and Joba was dominant in his second appearance.
During Opening Day last year, I kept a running log of the game , which I continuously updated throughout. This time I enjoyed the opening three game Red Sox series, but took copious notes.
Here are those thoughts on the opening series (play Law and Order "chung chung" sound here):
1) Sabathia was really good early, getting ahead in the count (he threw first pitch strikes to all three hitters in the first inning), while keeping his slider down. I believe him when he said he didn't attack hitters in the middle innings.
2) I would have hated for that Victor Martinez first inning ground ball to hit first base (which it did) then kick away from Mark Teixeira. That would have killed Teixeira's UZR right from the start.
3) Josh Beckett had a hard time all night hitting his spots with the fastball. While he was consistent on the gun (93-95 MPH), he was also all over the place. And when he can't locate his fastball and gets behind, then he cannot throw the curve in certain counts.
On the night, Beckett was behind in the count at some point in the at-bat for 18 of the 24 batters he faced. That new contract he signed with Boston is going to hurt the Red Sox down the road.
Maybe the best thing for Yankee fans is that Boston did re-sign Beckett for four years and $66 million. That will financially tie their hands for limited productivity.
4) Brett Gardner's speed is going to be a real asset all year. In the second inning he almost beat the throw to second base on the force play from Derek Jeter's ground ball. The double steal was made by Gardner going from first to third on Jeter's ground ball single to left field.
Let me repeat that—Gardner went from first to third on a ground ball single handled by the LEFT FIELDER.
Gardner also played good defense in left field. I believe his errant throw "home" was not intended for home, but was thrown high to third base. Alex Rodriguez needs to catch that throw, not let it get by him. Still, Gardner should have hit Jeter with the throw instead of throwing through.
5) After David Robertson relieved Sabathia in the sixth and gave up the game tying single to Adrian Beltre, Joe Girardi should have left Robertson in to pitch the seventh inning.
Two reasons:
First, after the single, K-Rob recorded two outs on weaker ground balls (one of his forte's), throwing only five pitches. Second, the game was now tied, it is the Yankees-Red Sox, and there was no reason to believe this game would not be tight for the duration.
There was no reason to burn Robertson after only three batters and only six total pitches, especially with a day off before the next game of the series.
One of my pet peeves with managers is that they have "one inning relievers." That is the worst managerial tactic in today's game. If a pitcher already in the game is throwing well, leave that guy in. You already know how the current pitcher is throwing, but you have no idea how well the next "one inning guy" is going to throw.
Over the last several years, the Yankees have bred the two to three inning reliever. It would not burn out a bullpen as fast if Girardi used one reliever for a couple innings each day, instead of using three guys each game.
And Park, who relieved Robertson, was not good on Sunday night. The Yankees would have been better off if K-Rob began the seventh inning, and Robertson (because the Yankees scored in the top of the seventh inning) would have received credit for the win.
1) The Marcus Thames experiment seems to be done. There is absolutely no reason for Girardi to start Thames against Lester in Game Two. Thames is a butcher in the outfield, and should be relegated only to pinch-hitting and designated hitter duties.
His perceived great splits against left-handed pitchers are not as good as most baseball people think. Thames is a Yankee for power from the right side, and he has 40 career home runs against left-handed pitchers in 693 plate appearances (PA). That averages out to a homer every 17.3 PA's.
But, when he faces right-handed pitchers, Thames has 61 home runs in 1018 PA, averaging out to a home run every 16.7 PA's.
Just about even. Therefore, Girardi made a mistake by starting Thames over the more productive Gardner.
2) Saber stat guys hate the RBI because they say it is dependant on other players on your team to get on base in front of you. True, but winning is also dependant on the RBI.
With the exception of 17 baseball games played since 1900, every team in every game has gotten guys on base, and teams average 13 to 14 runners per game.
It is much harder to hit the ball when there is pressure to drive in runners who are in scoring position than it is when bases are empty.
Granderson does not hit as well facing left-handed pitchers as opposed to facing pitchers who throw right-handed. It is that way with all lefty hitters.
So, top of the second, men on second and third, one out for the Yankees, already a run in on Nick Swisher's RBI double. Thames walks to load the bases with Granderson coming up facing Lester—a lefty.
That is a bad plate appearance for Thames. He needs to know who is behind him, and what the situation is at that point with the Grandyman's lefty on lefty difficulties. That walk helps Thames' OPS, but does not help the Yankees as Granderson whiffs and Jeter grounds out to end the inning.
You can see on Curtis' face, when he walked up to the plate, that he was not getting a hit. I am 100 percent positive the pressure of that RBI situation, the offseason articles, and the talk radio voices discussing his lefty splits were running though his head.
Even though Granderson struck out, Thames needed to put the ball in play there and try to drive in a run to help his team, not his OPS.
In his next PA Granderson leads off the fifth inning, again facing Lester—that same left-handed pitcher he struck out against in the second inning. Granderson rips a solid line drive to right field, starting a three run inning for the Yankees.
No pressure leading off—a single. Big pressure with men on second and third—white knuckle syndrome kicks in and Granderson strikes out.
RBI's are a big part of winning baseball games. It is the internal pressure which causes hitters to not have good at-bats with RISP as opposed to when the bases are empty.
What I did notice about Granderson is that he appears to have more pre-swing movement in his hands versus a lefty than he does a right-handed pitcher. That causes a timing issue, and can be attributed to that internal pressure players put upon themselves.
2) Granderson's defense is better than what many experts said. During the three game series, he caught plenty of deep balls near the fence (Beltre's sac fly in Game One), and line drives where he has to come in on the ball. Also, his throw home on Kevin Youlkilis' sac fly in the first inning of Game Two was picture perfect.
Situation: Jacoby Ellsbury on third, Victor Martinez on first base, one out. Youkilis lifts a fairly deep fly ball to center field, and Granderson makes a very strong throw on a line to Jorge Posada, which almost gets the speedy Ellsbury.
But what really made that throw terrific was that it was still low enough that Mark Teixeira was able to decoy Martinez into thinking he was cutting the ball off—despite the ball making it all the way to Posada. That kept Martinez from advancing to second base on the throw.
Tex's intelligent play does not help his seasonal UZR*, unfortunately, but it did help his team avoid a RISP situation.
*Teixeira's UZR took a hit in the first inning of Game Three when Ellsbury's grounder in the first/second base hole allowed him to reach base, then Ellsbury ripped a double down the first base line leading off the third. Tex is not turning balls hit into his "zone" into outs.
That will lower your UZR and WAR. Wow!
Granderson needs to improve his fly ball catching mechanics when getting ready to throw, as he caught the ball one-handed. On those types of catches (similar to a catcher attempting to throw a runner out who is trying to steal a base), the outfielder needs to have his throwing arm up near his glove to make the ball transfer quicker.
3) A.J. Burnett was ramping up the speed gun. About a half dozen times he hit 96 MPH or better, but on all those pitches, he appeared to overthrow, not once coming close to hitting his spot.
I thought A.J. got all that overthrowing out of his system during his final year with the Toronto Blue Jays. I remember him stating that Roy Halladay convinced him to tone it down during a game.
That was the reason he was more successful and did not get injured over the last two years. If he continues to overthrow the ball, we can look for A.J. to get hurt this year.
When a pitcher is in a big spot, they should always think location over velocity.
4) Alex's double in the fifth inning was after Lester blew two fastballs by him. But on the 3-2 count, Alex adjusted, using a smaller leg lift, thereby improving his timing.
5) The Yankees were extremely lucky to score the go-ahead run, and it wasn't because of Nick Johnson' great sabermetric batting eye.
I could not believe the Yankees could not advance Posada after his leadoff double, even when Gardner got the hit to left field! A weak grounder, a single, and a deep fly ball DID NOT advance Posada.
6) The Red Sox planned to improve their defense, getting both Beltre and Scutaro in the offseason, but their defense cost them in this game. Not just Scutaro's eighth inning error, but even Teixeira's weak ground ball to third base in the fifth inning cost them a run.
On that ground ball into the hole at third, Beltre did not attack the ball, but let it come to him, and Pedroia turned the double play on the shortstop side of the bag, and moving AWAY from first base.
Those two split-second decisions cost the Red Sox the out at first, and he eventually came around to score on Alex's double.
After that double, Robinson Cano was aggressive on the first fastball he saw from Lester, hitting a sac fly to center. With the infield back, and runners on second and third, Cano was trying to hit a ground ball up the middle or to the right, but did get the ball out of the infield.
Even while swinging at the first pitch in that PA, Cano still walked once and saw a total of 19 pitches in his five PA. He is getting better at taking pitches while still maintaining his aggressiveness on good pitches to hit.
8) Alfredo Aceves was his usual efficient self. Imagine all that effectiveness as a starting pitcher. When he starts next season, he could get at least five complete games.
1) Girardi won this game by staying with Park for three innings. I was listening to the game on the radio at this point and John Sterling and Suzyn Waldman were wondering who was going to pitch the ninth inning for the Yankees.
Well, how about Park, who was still pitching really effectively? Then when Park came out to start the ninth, it was great to see Girardi not go to the bullpen after JD Drew hit a one out single up the middle.
Isn't that why the Yankees signed Park? To give them multiple innings? As a former starter, Park could give the Yankees three or more innings per appearance.
Unless a guy is getting hit hard, Girardi should use most of his relievers (Park, Aceves, Robertson, Joba) that way. It reduces the workload on relievers constantly getting up to warm up.
Good series by the Yankees, taking two of three in Boston without Alex or Teixeira doing much of anything on offense.
Read more New York Yankees news on BleacherReport.com