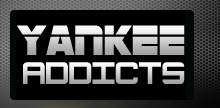 April 23, 2009 · Andrew Zercie · Jump to comments
Article Source: Bleacher Report - New York Yankees
Just 15 games into the 2009 season, the New York Yankees and Boston Red Sox renew their rivalry with a three-game series at Fenway Park in glorious summer-like weather beginning on Friday.
But, does anyone outside the Northeast Corridor care?
This weekend's series is taking a backseat to the NFL Draft, but I am fascinated by what could happen between these teams.
Both teams have gotten off to decent 9-6 starts. Mike Lowell and Jorge Posada, key players who missed significant time on their respective teams last year, seem rejuvenated thus far. Kevin Youkilis is hitting like a MVP candidate (.422-4-12) for Boston.
And, while it's probably too soon to claim a "comeback" season for Derek Jeter, his four HR and zero errors has staved off the "decline" talk—For now.
But all is not well for MLB's two most important franchises. Despite oversized team salaries, injuries, and performance issues have created doubts that the Yankees and Red Sox will have the staying power to make it to the postseason.
Alex Rodriguez has yet to take the field for the Yankees, and Chien-Ming Wang has pitched like he shouldn't have. Hideki Matsui is playing with a bad knee, and Xavier Nady is hurt as well.
For Boston, Daisuke Matsuzaka has a bad case of WBC Hangover it seems, and David Ortiz's surgically-repaired wrist doesn't seem to be "new" or "improved." What's more, being the shortstop for Boston has become like being the drummer for Spinal Tap.
Since trading Nomar Garciaparra, they've cycled through Orlando Cabrera, Edgar Renteria, Alex Gonzalez, and Julio Lugo. Jed Lowrie was slated to take the position, but he may miss the season with a wrist injury. Enter Nick Green, a former hotshot prospect for the Atlanta Braves who was a Yankee bench player in 2006.
Cody Ransom at third base in New York? Green the starting shortstop in Boston? Needless to say, things aren't the way they used to be for this storied rivalry.
When the Yankees were the best team in baseball and the Red Sox were just trying to break The Curse, these games garnered nationwide attention, no matter what other sporting events they went up against. But that was almost 10 years ago.
Both franchises have lost luster to some degree in recent years. The Yankees missed the playoffs last season for the first time since 1993, and they rekindled memories of the 1980s with their record-breaking spending spree over the winter.
Meanwhile, the Red Sox lost in the ALCS last year to the Tampa Bay Rays, a team with no tradition, no stars, and no fanbase. They were forced to trade one of their marquee stars last summer (Manny, being Manny), and their other marquee star has been just a shell of his former self ("Big" Papi).
One thing that hasn't changed though, is the passion that the fans of the Yankees and Red Sox have.
While nationwide interest in this rivalry isn't there right now, a good show this weekend can draw some attention away from the NFL Draft and remind people that, with the Yankees and Red Sox set to play each other this weekend, baseball season is here.