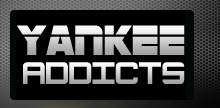 June 2, 2009 · Perry Arnold · Jump to comments
Article Source: Bleacher Report - New York Yankees
The New York Yankees bullpen has been terrible so far this year.
What was supposed to be a strength for the Bronx team has turned into an embarrassment.
At the same time, after a disastrous start by Chien Ming-Wang, the Yankees now seem to have too many good starting pitchers.
With Wang having turned in some very good performances in long relief, the question is in the air as to when he will return to the starting rotation.
And that fuels the question of what to do with Phil Hughes who has been the future star for the Yankees for a number of years now and is still only 22 years old.
Hughes has pitched well enough, since being brought up from Triple A when Wang went on the disabled list, to merit remaining in the rotation.
So what do the Yankees do with six starting pitchers.
They have one big right hander who, when he is on, has unhittable stuff. While he is prone to give up the occasional long ball, this pitcher has the kind of electric stuff the Yankees really need right now in the pen.
So, the Yankees should send A.J. Burnett to the bullpen and make him the bridge to closer, Mariano Rivera.
Burnett has been up and down as a starter in New York and would be the perfect man to provide what is needed in relief.
Of course, this is ludicrous. No one is going to seriously consider sending Burnett to the pen.
The same thing should be said of Joba Chamberlain, who proved in last night's eight-inning performance in Cleveland, that he deserves to be starting and that he has the potential to one day be a No. 1 on this staff.
The only reason that no one argues that Burnett should be sent to the pen is that he has never been there.
Burnett has always been a starter and will remain so.
Joba on the other hand was always a starter until the Yankees were desperate for help in the bullpen in 2007.
The Yankees took the 21-year-old starter and made him their eighth inning guy and he was an instant sensation.
Since that time, the arguments have gone on endlessly that Joba should be returned to the pen.
But Joba should remain in the starting rotation where he is much more valuable as he proved last night.
The dilemma will continue as to what to do with Wang and Hughes, but there should be no more discussion about Joba going to the pen.