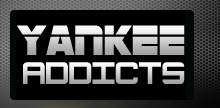 March 25, 2010 · Bronx Baseball Daily · Jump to comments
Article Source: Bleacher Report - New York Yankees
The Yankees cut five more players from the big league camp yesterday: outfielder Greg Golson, righties Mark Melancon and Jonathan Albaladejo, and infielders Juan Miranda and Kevin Russo, according to Marc Carig of The Star-Ledger.
The cuts of Miranda and Russo have pretty much cemented the Opening Day bench, ensuring a spot for Ramiro Pena.
Backup catcher possibility Mike Rivera is still in camp, but the consensus has always been that Francisco Cervelli will be the Opening Day backup backstop. Rivera is probably only in camp as the Yankees need the extra catcher for the extra pitchers still in camp.
With the latest cuts, here is what the bench is projected to be.
Backup catcher: Francisco Cervelli
Utility infielder: Ramiro Pena
Reserve outfielder No. 1: Randy Winn
Reserve outfielder No. 2: Marcus Thames
The cuts of Albaladejo and Melancon do make the bullpen picture a little clearer with only the final spot up for grabs. That spot is likely going to come down to right-hander Sergio Mitre and lefty Boone Logan. Another lefty who has had a good spring, Royce Ring, is still in camp, but he does not have a spot on the 40-man roster, making it unlikely he will make the team out of spring.
It appears that Mitre is the most likely of the three pitchers to make the team. One reason is because if he does not make the team out of spring, the Yankees risk losing him.
Another is this quote from Brian Cashman: "I would say, from my personal perspective, that you'd prefer to do two lefties, but you don't want those two lefties in theory to be situational lefties, especially in the American League. It's hard to carry that."
Here is how the bullpen looks to shake out.
Long man No. 1: Alfredo Aceves
Long man No. 2: Sergio Mitre
Middle relief No. 1: Chan Ho Park
Middle relief No. 2: David Robertson
Lefty relief: Damaso Marte
Setup man: Joba Chamberlain/Phil Hughes
Closer: Mariano Rivera
I like the 2009 bench better with Eric Hinske, Jerry Hairston Jr., and Jose Molina, but that is a pretty good one. That bullpen, though, looks great. If someone gets hurt or doesn't perform, then Melancon should be ready to fill in, or they could add another lefty like Logan or Ring.
This is probably the best bullpen/bench combo the Yankees have had going into the season in years.
What are your thoughts?
Related Stories
Read more New York Yankees news on BleacherReport.com