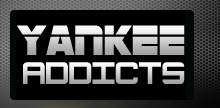 January 23, 2013 · Josh Housman · Jump to comments
Article Source: Bleacher Report - New York Yankees
For almost 20 years, catcher has been a position of strength in the New York Yankees organization. From Joe Girardi to Jorge Posada to Russell Martin, the Bronx Bombers have had an above average offensive catcher spanning across three separate decades.
However, with the retirement of Jorge Posada last offseason and the departure of Russell Martin, the Yankees are short at the position with no proven major league regulars on the roster.
Their current crop of catching candidates includes career backup Chris Stewart, the offensively challenged Francisco Cervelli and highly touted but inexperienced prospect Austin Romine.
It is not unlikely that these options will fail to perform at an acceptable level to satisfy Yankee fans and management. If they fail to succeed, general manager Brian Cashman will have to explore other options.