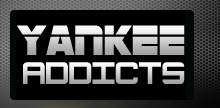 November 4, 2010 · Larry Barnes · Jump to comments
Article Source: Bleacher Report - New York Yankees
Courtesy Yankees 'n More
According to this report from Mark Feinsand in Thursday morning's New York Daily News, the New York Yankees won't be going after either of the top two outfielders in the free agent market—Carl Crawford and Jayson Werth.
"We are better with Crawford, but at that price?" a Yankees source told Feinsand. "I'm not sure it's that good of an upgrade."
We're not the tiniest bit surprised with the news on Werth. The Yankees have never shown any significant interest in him, and he doesn't fit with the more athletic type of outfielder Brian Cashman has been targeting for the past several years.
Carl Crawford, on the other hand, is EXACTLY the type of outfielder/player Cashman has been after, and the Yankees have had a significant crush on the Tampa Bay left fielder for years. We'd just about guarantee you Cashman has spent time wondering what a Brett Gardner, Curtis Granderson and Carl Crawford outfield could mean to his Yankees. Good luck finding a gap between those dudes.
Bringing in Crawford would almost certainly mean the end for Nick Swisher in pinstripes, which would come as no surprise to us.
"Unless they parted with (Gardner, Granderson or Swisher), I'm not sure where they would fit," Feinsand's source said of Crawford and Werth.
As we have mentioned in this space before, trading Swisher now makes a LOT of sense. His value, off consecutive strong seasons in New York, has never been higher. Remember that the Yankees bought in VERY low on Swisher. Here's a chance for Cashman to sell his penny stock as a real premium. Additionally, Swisher is due a salary bump to $9 million next season.
Bottom Line

The Yankees won't be in on Werth, and they shouldn't be. It makes no sense to move Nick Swisher so you can give the 32-year-old Werth $100+ million. However, we will be very surprised if the Yankees don't end up being significant players for Carl Crawford.
Don't forget. Two years ago, after the Yankees handed out all that money to CC Sabathia and A.J. Burnett, the New York media kept assuring us all that there was no way the team was in on Mark Teixeira. That worked out pretty well.
Read more New York Yankees news on BleacherReport.com