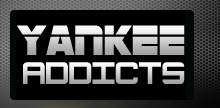 News published by
August 13, 2011
If you listen to the propaganda spewed by the New York Yankees, Jesus Montero is a catcher who is constantly improving defensively and who will be some combination of Mike ...
August 5, 2011
COURTESY OF YANKEES 'N MORE Imagine, if you will, a scenario in which Phil Hughes had remained healthy all season, pitched to a 10-4 record with a 3.81 ERA and lost ...
July 13, 2011
COURTESY OF YANKEES 'N MOREHere's a few things you need to know about the deal that sent New York Mets closer Francisco Rodriguez to the Milwaukee Brewers.1) The Mets made ...
May 28, 2011
Courtesy of Yankees 'n More As I watch Jorge Posada live on the 1nterstate while serving as the New York Yankees, um..., well..., "designated HITTER" (much for irony?), I am left ...
May 18, 2011
There is no doubt the New York Yankees should have a guy named Jorge as their everyday designated hitter right now. The only problem is this organization continues to use ...
April 25, 2011
Courtesy of Yankees 'n More There is a GREAT read from Ken Davidoff up on Newsday.com right now. It's a blog post, so you get to read it for free!Davidoff talks ...
April 19, 2011
Courtesy of Yankees 'n More Caught this New York Post story Tuesday morning about New York Yankees setup man Rafael Soriano and his aversion to cold weather, which makes him just ...
April 8, 2011
Phil Hughes was born on June 24, 1986 in Mission Viejo, California. A little less than 25 years later, the sorry sack of bones went to Boston and gift-wrapped the ...
April 6, 2011
It was all but in the books. Another win for the New York Yankees, who led the Minnesota Twins 4-0 heading into the top of the eighth inning.Then Joe Girardi had ...
April 4, 2011
As you no doubt know by now, New York Yankees general manager Brian Cashman made some rather odd comments regarding his disabled lefty reliever, Pedro Feliciano, and the way he ...