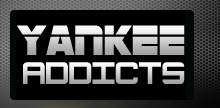 February 9, 2010 · Double G Sports · Jump to comments
Article Source: Bleacher Report - New York Yankees
The Yankees announced their Spring Training Invitees.
Marcus Thames
He recently signed a minor league deal with the Yankees and will be at Spring Training fighting for a job on the big league roster. Thames could make the team as a backup outfielder against left-handed pitching. Thames is a low average, high power type player. He was originally drafted by the Yankees.
Jesus Montero
The biggest Yankee prospect will get a taste of the bigs. He will likely see a lot of time from the catcher position in the spring. Not only is Montero the Yankees top prospect, but many see him in the top 20 in all of baseball. Big time power from this guy. Likely starts the season at Triple-A but could get a call up at some point this season.
Kei Igawa
The fourth season of his five year contract. Igawa has been one of the biggest busts for the Yankees. Was terrible in his time with the big league club and did not throw a single pitch for them last season. He was 10-8 with a 4.15 ERA for Triple-A Scranton last season. Possible long relief option? Doubt it. Sounds like a career minor-leaguer to me, unless they can some how trade him.
Zach McAllister
Zach is one of the Yankees' top pitching prospects. Thought to have the best control in the Yankees farm system. Not likely to make the club, but the righty could get a call up at some point when injuries hit.
Other players that will be in Tampa for training: left-handed pitchers Wilkins Arias, Jeremy Bleich, and Royce Ring. Right-handers Grant Duff, Jason Hirsh, Amaury Sanit, Zack Segovia, and Kevin Whelan. Outfielders Colin Curtis, Reid Gorecki, Jon Weber, and David Winfree will also be there, as will catchers Austin Romine, P. J. Pilittere, and Mike Rivera.
For more Yankees news, go to Double G Sports.
Read more New York Yankees news on BleacherReport.com