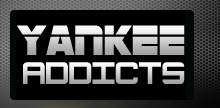 October 7, 2010 · Bronx Baseball Daily · Jump to comments
Article Source: Bleacher Report - New York Yankees
It wouldn't be a Yankees—Twins playoff game if the Yankees didn't fall behind early only to victimize the Twinkies late in the game to come out ahead for their seventh consecutive playoff victory, 6-4, against Minnesota.
Here are some highlights:
The Twins had an early 3-0 lead, which looked pretty good as Francisco Liriano looked unhittable early.
The Yankees drove up his pitch count and took advantage of him with a four-run sixth inning, capped off by a two-run triple by Curtis "I can hit lefties" Granderson.
CC Sabathia was clearly gassed as he gave up the game-tying run in the bottom of the sixth to knot it at 4-4.
Sabathia did not have his typical location all night. His line: 6 IP, 5 H, 4 R, 4 ER, 3 BB, 5 K, 1 HR.
Mark Teixeira launched a homer to right field that barely stayed fair off reliever Jesse Crain to make it 6-4.
Boone Logan, David Robertson, and Kerry Wood got the ball to Mariano Rivera, who got a four (really a five) out save to end the game.
Some lowlights include Jorge Posada not being able to catch a strike that led to a passed ball and the third Twins run of the night.
In the ninth inning with two outs, Delmon Young hit a line drive to right field that Greg Golson caught, but umpires ruled it a hit because, well, umpires suck. Rivera got the next batter so the play didn't matter anyway.
That was a big win, but the Yankees can't rest and have to keep the pedal to the metal tonight as game two is just as important, if not more important, in a short series. For the record, the Yankees have never gotten past the first round of the playoffs as the wild card.
Related Stories
Read more New York Yankees news on BleacherReport.com