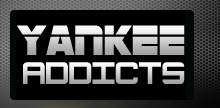 April 12, 2010 · Dan Hanzus · Jump to comments
Article Source: Bleacher Report - New York Yankees
It's six down, 156 to go for the Yankees, who escaped Boston and Tampa with a perfectly acceptable 4-2 record. With the home opener set for Tuesday, River & Sunset takes a look back on the first week of the 2010 season.
That heavyset gentleman with the gentle smile and powerful left arm, he may be pretty good!
CC Sabathia nearly pitched a no-hitter on Saturday against the Rays, flirting with history until the immortal Kelly Shoppach singled to left with two outs in the eighth.
Sabathia exited immediately following the base hit, but still picked up his first win of the season following an underwhelming debut on opening night in Boston.
Sabathia is the epitome of an ace, and the single biggest (both literally and figuratively) reason why the Yankees are nearly slump-proof. This could be a monster season for No. 52.
Hmmmm …is it too late to get Melky back?
Yes, it's just one start of (hopefully) 33 or so, but the Javy Vazquez we saw on Friday night looked eerily similar to this guy .
A lot was made during the offseason about how Vazquez was in a better position to succeed in his second stint with New York because he's now in the back of the rotation rather than the front.
That's all well and good, of course, but at the end of the day, you still need to pitch when the spotlight is on you every fifth day.
Until he proves that he can do it, Yankee fans are right to remain skeptical.
Hey Tex, the slow start was cute…last year. PICK IT UP!!!
The spring training chatter was that Mark Teixeira was gearing up for an April that would be the opposite of the sluggish first month he experienced in 2009.
He was killing the ball all spring… which naturally translated to a career-worst 0-for-17 slide to start the regular season.
Tex bounced back with a three-hit day against the Rays on Saturday, so let's hope he can take that as a cue to lose the Daniel Murphy impersonation.
Excuse me, Mr. Girardi. You are aware that Chan Ho Park sucks, right?
Chan Ho Park was rocked by the Red Sox twice last week, though he was maligned for only one of the outings and praised for the other.
The first appearance was opening night, when he gave up the game-tying two-run homer to Dustin Pedroia. The second was two days later, when he pitched three scoreless innings but gave up 47 line drives directly at infielders and 14 flyballs to the warning track. (Ed. note: Figures may be inaccurate. )
That didn't stop the YES postgame guys from drinking the Park Juice afterward, saying preposterous things like, "Joe Girardi has to be thrilled with the performance Chan Ho Park gave him today."
Here's to hoping the Yankees manager watched game tape of Park's "good" outing and realized the reliever's success was purely the product of a horseshoe crammed firmly up his posterior. At best, Park should be the Yankees' mop-up guy.
Literally, I think he should be handed a mop to work in the clubhouse.
You're playing with the big boys now, Nick. Time to step it up.
Nick Johnson had three hits in his first 30 plate appearances this week. This was cushioned by his his seven walks and one hit-by-pitch, which is pretty cool, but still.
Nobody loves Johnson more than this guy (I'm sitting with my arms extended and thumbs pointed at my chest), but he did look a bit, well, out of his element hitting in the middle of a Yankees lineup frontloaded with future Hall of Famers.
Here's to hoping for a better showing in Week 2 for Nick The Stick.
Granderson looking like a welcome addition to the Universe
Did you catch John Sterling's new home run call for Curtis Granderson? It's apparently a reference to a Broadway play from the 1940s, a fact that's already been added to my ongoing investigation into how old John Sterling actually is (right now, we're sitting at 107, but this changes often).
Anyway, Granderson's first week in New York could not have gone better. He homered in his first at-bat (in Fenway, no less), then beat that neanderthal Jonathan Papelbon with a homer in extra innings two nights later.
For the week, he batted .348 with two homers, four RBIs, and three stolen bases.
Meanwhile, Johnny Damon was spotted using a walker after a game in Detroit last week. I think this was a good decision.
Cano is down a best friend but up a fast start
Robinson Cano was moved up to the fifth spot in the Yankees' batting order this season, a move that signaled the club's expectations that its second baseman become one of the American League's top run producers.
His woes with runners-in-scoring-position were well documented last season, so it was imperative that Cano got out of the box quickly to avoid that unsavory subplot from carrying into 2010.
Cano responded with a big first week, batting .360 with two homers and a team-leading six RBIs and 17 total bases. Cano is a way under-the-radar MVP candidate when you consider: a) he plays every day; b) is a near lock for 200 hits and c) could conceivably have runners in scoring position for half of his at-bats.
I'm not saying Cano is going to challenge Hack Wilson's RBI record, but if things break the right way, who's to stop him from driving in 120+ runs? I'm sure Melky will fly up for a nostalgic glow stick party if that happens.
Um, I don't want to be a jerk, but the Rays should be banned from baseball until they get a stadium
Evan Longoria picked up a ridiculous "single" in the seventh inning on Sunday when his pop-up hit the freaking catwalk above the infield at Tropicana Field.
The game was very much in the balance at that point, and Burnett needed to pitch out of a bases-loaded jam to project a 4-2 lead.
Georgie Posada was pointed in his comments about the craptastic facility after the game: "It's not a baseball stadium. You can't have balls going all over the place. It's sad."
(Is there a more telling moment of commentary when something or someone is labeled as "sad"? It really cuts deep. Underrated adjective.)
I still think Terry Francona said it best back in 2006 after Boston got screwed on some similar catwalk shenanigans:
"At some point, and I don't think my complaining is going to do it, but at some point Major League Baseball's—this Putt-Putt golf shit's got to go. It's stupid, hitting it around the windmill, this is a Major League game. It's like the bigger you are, the better you hit the ball, the more you get penalized."
He may be a dirty Red Sox, but the man has a point.
Dan Hanzus writes the Yankees blog River & Sunset and can be reached via e-mail at dhanzus@gmail.com. Follow Dan on Twitter at danhanzus .
Read more New York Yankees news on BleacherReport.com