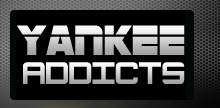 October 7, 2010 · Bronx Baseball Daily · Jump to comments
Article Source: Bleacher Report - New York Yankees
Before Game 1 of the ALDS yesterday, I briefly mentioned how I thought the whole "pitching wins in the postseason" narrative is a little flawed. Clearly, pitching – starting pitching in particular – is a gigantic factor in deciding who wins. Tampa Bay certainly wishes they didn't have to face Cliff Lee yesterday (and maybe I'm being overly reactionary, but after watching him, I'm ready for the Yankees to give him the blank check. With Gardner the Yanks don't need another outfielder. They just need Lee. So yes, I still think starting pitching is extremely important). But it's not the only factor, and as an example I cited the great Braves teams of the 90′s, who unquestionably had the best starting rotation in baseball, yet only won one World Series.
Well Game 1 last night, to a degree, helped prove my point. CC Sabathia wasn't great. He kept the Yankees in the game, but wasn't overpowering. It looked like through 5 innings that Francisco Liriano would win the match-up. The Yankees seemingly had already missed their opportunities to score, twice leaving 2 men on base. The Yankee offense is relentless though. They keep wearing you down. Their weakest hitter is probably their lead-off guy. Their number 9 hitter, Brett Gardner, leads the league in pitches seen per AB, and has an OBP nearing .400. Their number 8 hitter, Curtis Granderson, missed time and still hit 24 HRs. They will make a pitcher work and that's precisely what they did to Liriano. Liriano had, what appeared to me, to be a lively fastball and a nasty slider (though I don't see him on a regular basis, so I'd be interested to hear from someone who does). Even in innings where he looked pretty dominant though, the Yankees made him throw a lot of pitches. They worked some walks. Finally Mark Teixeira
got a double and Granderson hit a triple a few batters later. Those were really the only hard hit balls, but they were enough.
Just like that, the Yankees had what they wanted: a battle of the bullpens, which is currently the Yankees' pitching strength. Teixeira ran into one, Mariano Rivera broke 4 bats, and the game was over.
So yeah, it is all about the pitching in a sense. Not only do you need pitching of your own, but you need to be able to wear out your opponents' pitching. The Yankee offense will try to do that tonight against old friend Carl Pavano.
Just like the win stat itself, we try to hang the entirety of the game on the starter. But if a starter gets hit, does it mean they didn't come through or did the offense have a great day? I think Liriano was very good in Game 1. If Pavano comes out and dominates tonight, is it because he pitched great, or did the offense have a poor night (or is it because the baseball Gods are cruel and enjoy irony)? We like to say it's the pitcher, but it's not really that simple.
Other thoughts on Game 1:
– I've never really bought into the whole "clutch performer" thing too much, but it is remarkable how Rivera seems to elevate his game. He was floundering a bit (for him) in September, yet he comes right out in Game 1 and shatters almost every bat he faces. I've always wondered this: could it not only be that Rivera raises his game, but that something about the hitters change too? Perhaps hitters try harder to make something happen, which plays into Rivera's hands? The battle between hitter and pitcher is usually a guessing game; if the hitter guesses right, he improves his chances greatly. But there is no guessing with Rivera. He'll just keep hammering you with nasty pitches that are on the edge of the zone and wait for you to get yourself out. He never gives in. Really, it's an amazing thing to watch and hopefully he can keep it up.
– Greg Golson had the defensive play of the game, a shoestring catch that should have won the game, but was inexplicably ruled a hit. Obviously, the evidence for instant replay continues to mount and I can't think of a single reason why the umpires shouldn't have the technology to quickly get that call right. For my own sanity though, I'm going to focus on the catch itself. When Golson is in right field, that has to be the best defensive outfield in the majors, right? I'm think the Yankees were smart keeping Golson on the postseason roster.
Most Commented Posts
Read more New York Yankees news on BleacherReport.com