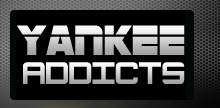 April 14, 2010 · Perry Arnold · Jump to comments
Article Source: Bleacher Report - New York Yankees
The World Champion New York Yankees hung their 27th banner yesterday and passed out some very large rings.
But now we leave '09 in the rear view and look to what the new season holds in store.
After seven games in an odd 10 days that saw a forgiving schedule with three off days, the Yankees hold a 5-2 record.
Derek Jeter has started as hot as he played last year. Through seven games Jete has scored five runs and has 10 hits. Over a 162 game average that would give the Yankee captain 230 hits for the year.
It is not likely that Jeter would garner that many hits, but he is certainly on pace to get over 200 hits again.
Nick Johnson is hardly hitting at all, even though he hit his first dinger of 2010 in yesterday's home opener. It was a long home run to right center field.
But Johnson does not have to hit home runs and is not expected to carry a shining average. He was acquired because he is an on base percentage machine. And so far he has not disappointed in that arena. His OBP after seven games is .429. And he is healthy.
Alex Rodriguez has been very productive as well. He has nine hits, including four doubles. Although he is yet to hit his first home run of 2010 he already has six RBI which over a 162 game season would translate to 138 RBI.
Robinson Cano has been one of the hottest and most productive Yankees. Being slotted in the five hole behind A-Rod was a questionable move because Cano did not have good numbers with runners in scoring position in 2009.
But Robbie has come out of the chute on fire this year in contrast to his slow starts in other years. Through seven games and 30 at bats, Cano has 11 hits, three doubles, two homers and six RBI which puts him at the same projected RBI total as A-Rod with 138 over an average 162 game season.
Jorge Posada has been "sick" so far this season, not physically, statistically sick. Jorge who will turn 39 in August has a .429 average with nine hits in 21 AB's and has a .556 OBP.
Curtis Granderson has made his transition to pinstripes look easy so far as he has 10 hits in 28 ABs including two dingers. He is hitting at a .357 clip and has a .419 OBP. But Granderson has struck out six times which would give him 138 Ks over a 162 game average season.
Nick Swisher has also been hot with seven hits in just 22 ABs. But Nick has struck out eight times as well which would give him an inflated strikeout total of 184 for an average of 162 games.
Thus far the Yankee hitters mentioned above have been either productive or on fire. Two of the regulars have not been—Mark Teixeira and Brett Gardner.
Teixeira, who got off to a horrendous start last year is struggling in April again this time around. In 27 at bats, Mark has only three hits. He has worked seven walks and has scored five runs.
Tex is a notorious slow starter and history shows he will come out of it when the weather turns warmer for good.
Brett Gardner on the other hand has no history of consistent production. Gardner started very well, hitting and using his speed to distract opposing pitchers. In the first series in Boston, Gardner was one of the stars of the series as the Yankees topped Boston two games to one.
But in the past two games, the finale in Tampa Bay and yesterday's home opener, Gardner has gone 0-7 and struck out three times. He obviously can't use his speed if he can't get on base.
Gardner is now hitting .250 but has had only 20 ABs which is not enough of a sampling to determine what he can really do.
The Yankees would not be 5-2 without a lot of offensive production. They got a stellar performance from CC Sabathia in Tampa Bay on Saturday and yesterday Andy Pettitte was great.
AJ Burnett took us on another roller coaster ride in his first start in Boston, but was much better on Sunday in Tampa.
Mariano Rivera has been his usual perfect self. But other pitching performances have been up and down and all over the board. Javier Vazquez was a major disappointment in his start in Tampa Bay and relievers, including David Robertson yesterday, have been enigmatic.
So the Yankee offense deserves most of the credit for this fast start.
Read more New York Yankees news on BleacherReport.com