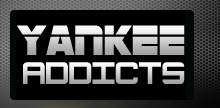 February 13, 2013 · Josh Housman · Jump to comments
Article Source: Bleacher Report - New York Yankees
It seems as though the Yankees empire of the 1990s and 2000s is drawing to a close. Their "core four" has lost a member to retirement while the remaining three are not far behind. Their only real stars in their prime are Robinson Cano and Curtis Granderson, both of whom are over 30 years old as well.
What's more troubling than the aging roster is the lack of young talent ready to come in. Even as recently as the late 2000s, the Yankees always seemed to have at least one big-time prospect ready to make an impact. Phil Hughes in 2007, Joba Chamberlain and Ian Kennedy in 2008 and Jesus Montero in 2011 excited Yankees fans with their youth and talent.
Now, with their top prospects hurt (Manny Banuelos), ineffective (Dellin Betances) or far from the majors (the entire Charleston Riverdogs/Tampa Yankees outfield), the Yankees find themselves looking for players to fill out the roster. Ahead are five surprise players who could be among the 25 chosen to open the season in the Bronx versus the Red Sox.