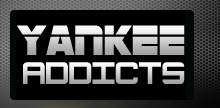 October 17, 2011 · David Young · Jump to comments
Article Source: Bleacher Report - New York Yankees
When you break it down, most sports are simple to understand. I've been able to teach my wife the basics of baseball in two easy lessons: pitching and defense.
She now sits watching baseball games with me and makes astute comments about pitching and defense. For example, after AJ Burnett exited Game 4 of the ALCS, she commented how Curtis Granderson had saved his butt with those two fine catches.
Now, if she gets it, why can't the Yankees brass? My wife understood that AJ Burnett's Game 4 pitching line looked good because of Granderson's defensive plays behind him. My wife understands that a pitcher is only as good as his defense, and a defense is only as good as the pitcher.
In other words, if both are good you've got a winner. Did the Texas Rangers get to the World Series before they added pitching to their punch? Were the 2010 San Francisco Giants a modern day Murderer's Row? No and No.
I'm amazed sometimes at how blind the Yankees management can be to the obvious. They have weaknesses staring them straight in the face, and 90 percent of the time, they add hitting to cure it.
The following are five basic mistakes the Yankees leadership makes almost every year.