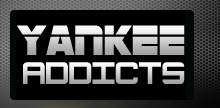 News published by
October 17, 2011
When you break it down, most sports are simple to understand.  I've been able to teach my wife the basics of baseball in two easy lessons: pitching and defense.She now ...
October 12, 2011
Alex Rodriguez is one of the most polarizing figures in all of sports.  Ever since he signed his 10-year, $250 million contract with the Texas Rangers he has been in ...
October 7, 2011
Well, like most Yankees fans last night I stared at the television for a good 20 to 30 minutes after Jose Valverde struck out Alex Rodriguez to advance the Tigers ...
September 30, 2011
I need help here from Yankee fans—or any fans, for that matter—to give me some reasons as to why AJ Burnett is on the first-round playoff roster. I'm serious. I ...