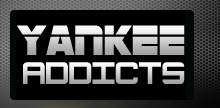 October 7, 2011 · Rick Weiner · Jump to comments
Article Source: Bleacher Report - New York Yankees
Mercifully, it is over.
If we are being honest, I think deep down most Yankees fans knew that this team wasn't destined for a World Series championship.
I know I didn't think they had it in them, though I did expect that they would make it out of the American League before falling in five games to the Philadelphia Phillies in the World Series.
While all eyes were on their starting pitching—namely everyone not named CC Sabathia—it was the offense and their inability to knock in runs and make productive outs that ultimately destroyed their chances to advance.
Make no mistake about it—there is plenty of blame to go around, and it's not all on Alex Rodriguez.
But the ALDS did have some bright spots for the Yankees.
Let's take a look at some of the positives that they can hopefully carry over and build on heading into next year.