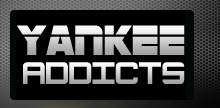 February 6, 2013 · Joshua Acosta · Jump to comments
Article Source: Bleacher Report - New York Yankees
Look at the current New York Yankees 25-man roster. I guarantee half of them will not return to the team in 2014.
After the 2013 season, the Yankees are on the hook for approximately $88.6 million dollars, which only includes six players, and doesn't include players available for arbitration.
Hal Steinbrenner and the Yankees are aiming to keep their payroll under $189 million to avoid paying luxury taxes. With Robinson Cano and Phil Hughes' contract expiring, there isn't enough money to pay and keep everyone.
Here are the five players who will not return in 2014.