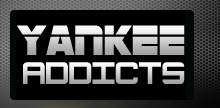 News published by
February 19, 2013
The New York Yankees will not make the playoffs in 2013.Fahgettaboudit!In a recent press conference, Yankees manager Joe Girardi discussed his high expectation for the team in the upcoming season. ...
February 11, 2013
The New York Yankees will hoist another Commissioner's Trophy down the Canyon of Heroes in the near future.  When they do, the team's bank account will have extra zeroes in ...
February 6, 2013
Look at the current New York Yankees 25-man roster.  I guarantee half of them will not return to the team in 2014. After the 2013 season, the Yankees are on ...
February 5, 2013
Robinson Cano is the best second baseman in the league and worthy of one of the richest contracts ever given to a second baseman. After the upcoming 2013 season Cano ...
February 4, 2013
The New York Yankees potentially can void Alex Rodriguez's contract if accusations of his involvement in another performance-enhancing drug scandal are true.  If they are successful, the Yankees will reach ...
January 29, 2013
Injuries and free agency have ravaged the New York Yankees roster.  The team lost Nick Swisher, Raul Ibanez, Russell Martin and others after a terrible postseason appearance.  During an interview ...