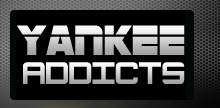 October 7, 2011 · Chris Sbalcio · Jump to comments
Article Source: Bleacher Report - New York Yankees
On Thursday, the New York Yankees' surprisingly great season came to an abrupt halt, as the Bombers lost Game 5 of the American League Division Series to the Detroit Tigers, 3-2.
The Yankees received an admirable performance from their bullpen following an injury to rookie starter Ivan Nova that limited him to two innings on the mound. Phil Hughes, Boone Logan, CC Sabathia, Rafael Soriano, David Robertson and Mariano Rivera all came into the game in relief of Nova and combined they pitched seven innings, allowing one run on five hits and two walks with 10 strikeouts.
This was after Nova had given up back-to-back home runs to Don Kelly and Delmon Young in the first inning, so overall, the Tigers scored a grand total of three runs in Game 5.
It turns out that's all they would need, as the Yankees struggled heavily against Detroit's pitching combination, made up of arguably the four best Tiger pitchers not named Justin Verlander. Doug Fister, Max Scherzer, Joaquin Benoit and Jose Valverde combined to limit the Yankees to just two runs, despite giving up 10 hits and three walks. This was largely due to the fact that the Yankees—mostly A-Rod—struck out 10 times, mostly in pivotal at-bats.
When a team loses a postseason series and gets sent home, the finger is usually pointed almost exclusively at the manager. Now don't get me wrong, I too am pointing a finger at the $31-million-man, Alex Rodriguez, who had yet another postseason for the ages (yeah, right), but I do have to admit that there were a handful of decisions made by Joe Girardi that might have cost the Yankees a shot at No. 28. Most of them didn't seem too pivotal at the time, but I honestly feel that they might have been the difference in this series.