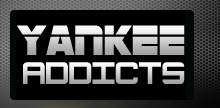 January 30, 2012 · Colton Kokrda · Jump to comments
Article Source: Bleacher Report - New York Yankees
The most successful franchise in professional sports is slowly but surely losing its edge.
The New York Yankees won the Word Series four times between 1996 and 2000, however they've only won it once since then, in 2009.
2009 was also their first appearance in the World Series in six years, after having made the big show in six of the eight years between 1996 and 2003.
Needless to say, the Yankees are losing their edge in the world of baseball, and these are some of the reasons why.