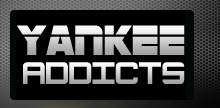 News published by
April 1, 2012
The New York Yankees are entering the season as a favorite to win not only the AL East, but as a contender for the World Series.Robinson Cano plays a vital ...
March 12, 2012
With spring training games already underway, the New York Yankees are getting the opportunity to evaluate each and every player, as they prepare for the season. Undoubtedly, these observations will ...
February 22, 2012
When the New York Yankees traded top prospect Jesus Montero and pitcher Hector Noesi to the Seattle Mariners for young hurler Michael Pineda and prospect Jose Campos, they took a huge ...
January 31, 2012
With pitchers and catchers reporting in just a few weeks, baseball season is right around the corner.The New York Yankees are coming off of a 97-win season that ended in ...
January 30, 2012
The most successful franchise in professional sports is slowly but surely losing its edge.The New York Yankees won the Word Series four times between 1996 and 2000, however they've only ...
August 18, 2011
Yankees GM Brian Cashman has been on record stating that the Yankees currently have a championship caliber team. However, the common consensus amongst those around the league is that while ...