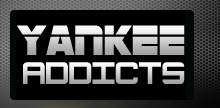 December 3, 2011 · chris brunau · Jump to comments
Article Source: Bleacher Report - New York Yankees
Joe Girardi is known for changing things around, using different players on different days and tweaking his lineup. However, in 2012, Joe needs to make a basic lineup and stick with it.
For the sake of this article, the starting positions will be:
C: Russel Martin
1B: Mark Teixeira
2B: Robinson Cano
SS: Derek Jeter
3B: Alex Rodriguez
LF:Brett Gardner
CF: Curtis Granderson
RF: Nick Swisher
DH: Jesus Montero
When you look at this Yankee lineup, just when you think you're about to hit a weak spot, you get another guy who is is well capable of hitting close to .300 or knocking in 20 bombs a year. It is relentless, to say the least.