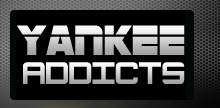 February 9, 2012 · John Nizinski · Jump to comments
Article Source: Bleacher Report - New York Yankees
The New York Yankees again are among the MLB teams that are favored to win the World Series in 2012. Their starting right fielder is still Nick Swisher and he will have a significant role for the Yankees' success.
I started with C.C Sabathia and will now take an in-depth look at Nick Swisher and give an outlook for his 2012 season.
Outlooks completed:
C.C Sabathia: http://bleacherreport.com/articles/1056682-new-york-yankees-2012-season-outlook-cc-sabathia