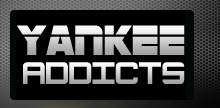 February 16, 2012 · John Nizinski · Jump to comments
Article Source: Bleacher Report - New York Yankees
The Yankees are the most successful American sports franchise of all time. They have won five championships in the past 17 years, including three in a row in 1998, 1999 and 2000. Many argue that they would not have been able to win any of these championships without Mariano Rivera.
There has been speculation that the Yankees 42-year-old closer will retire after the 2012 season, but here is a look at the closer's 2012 season outlook.
Outlooks completed:
CC Sabathia: http://bleacherreport.com/articles/1056682-new-york-yankees-2012-season-outlook-cc-sabathia
Nick Swisher: http://bleacherreport.com/articles/1059749-new-york-yankees-2012-season-outlook-nick-swisher
Mark Teixeira: http://bleacherreport.com/articles/1061285-new-york-yankees-2012-season-outlook-mark-teixeira
Ivan Nova: http://bleacherreport.com/articles/1062703-new-york-yankees-2012-season-outlook-ivan-nova
Curtis Granderson: http://bleacherreport.com/articles/1065061-new-york-yankees-2012-season-outlook-curtis-granderson