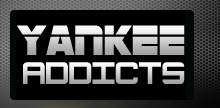 December 18, 2011 · Phillip Brown · Jump to comments
Article Source: Bleacher Report - New York Yankees
I have already predicted the New York Yankees pitchers 2012 season, so why not their offense next?
The Yankees always have one of the best offenses in the majors, but with the addition of Jesus Montero and a healthy Alex Rodriguez, their offense might be the best in 2012. You can say that their rotation is average at best, but there is not a single slouch in their star-studded lineup led by one of the best batters in the majors: Robinson Cano.
The offense always carries the New York Yankees. Let's see what it can do in 2012.