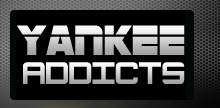 March 7, 2012 · Rick Weiner · Jump to comments
Article Source: Bleacher Report - New York Yankees
New York does bold better than anyone else.
Our food is bold—we dare you to finish a Carnegie Deli sandwich in one sitting.
Our celebrations are bold—from New Year's Eve in Times Square to a victory parade down the Canyon of Heroes.
The fact is, New York does it bigger and better than anyone else.
So when I was asked to come up with a bold prediction for each member of the Yankees' 25-man roster, my first reaction?
Just covering the 25-man roster isn't bold enough.
No, the readers of B/R demand more.
So we will look at the 25-man roster—but we will also look at the guys who will start the year on the disabled list, some prospects and maybe a move or two along the way.
Enough posturing—let's do this.