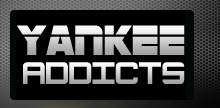 October 18, 2010 · Devon Teeple · Jump to comments
Article Source: Bleacher Report - New York Yankees
The 2010 playoffs have been somewhat predictable up to a point;
With all that said, the ALDS and NLDS have started a little differently, the baseball gods have apparently decided to shake things up this October.
Yankee folklore, mystique, whatever you want to call it, reared its head in Game 1. But wait.. the Texas Rangers after all but giving away a Game 1 victory decided to "cowboy up" in Game 2 and make this a series.
As mentioned, Game 2 was a different story when Phil Hughes, Mr. October, apparently thought is was mid-August.
The Philadelphia Phillies looked unstoppable, until they were confronted with a "freak" who was not really bothered by the history making of Halladay and decided to outperform a magician.
We will leave the Phillies-Giants series alone. The Giants appear to be that team destined for something special. The cards have been dealt, and they are using every bit of leverage to their advantage; Cody Ross has become irreplaceable, bad defense—Brooks Conrad, and Brian Wilson (the bearded one), is getting more and more intimidating, even though "his beard is weird."
Focusing on Texas versus New York, all signs point to Lee again solidifying himself as this generations Dave Stewart.
Assuming after Game 3 the Rangers are up one game, and if the reports stay true to form, Game 4 lies in the hands of A.J. Burnett.
If Burnett, as many predict, tanks, the "Dark Side" will be in the unfamiliar position of down 3-1 in the series.
Highlight this point, Burnett will have a quality start in Game 4, thus giving the Bronx Bombers another opportunity to crush Ranger dreams. (I even gave Burnett my vote of confidence on Twitter, a few days ago)
@devonteeple Devon Teeple
Surprise of the ALDS, Burnett has a quality start and they win his game. When everyone bets one way, you bet the other….just saying!

Look at this from Burnett's perspective, he has nothing to lose. The whole baseball community is betting against him, and subtract one bad outing against the Toronto Blue Jays (2 innings, 7 runs, 9/27/10), and Burnett has been decent in six September starts: 33 innings pitched, 15 earned runs, 31 strikeouts against 31 hits and 14 walks.
Specifically, it gives Burnett a WHIP of 1.36 or somewhere between Brett Cecil and Gavin Floyd, an ERA hovering around 4.10 and nearly nine strikeouts per nine innings.
We all know Burnett is having a bad year, but don't forget he still pumps out fastballs around 93mph (slight 1mph decrease from 2009) and has the ability to be lights out when he is on.
The numbers show (courtesy of fangraphs.com) his reliance on his fastball is a great at it has every been—69.0 percent. This leaves little to the imagination of the hitter. Burnett's O-contact percentage is 12 percent higher than at any point is his 12-year career, even when Burnett misses his spots, hitters are teeing off with aggressive swings.
Will Jorge Posada stay Burnett's battery-mate for Game 4? Maybe, but why not give Francisco Cervelli his chance.

Posada is batting .143; the Rangers are running at will, all while Posada is making some questionable decisions behind the plate (not looking the runner back to third in the first inning of Game 2).
Millions will be watching Game 4, many waiting to see an athlete implode on its biggest stage, except this is when the cream rises to the top. Or in a case like this, a player who many had given up hope on reaffirms his place in history, restoring shattered confidence in the most unexpected pressure filled situation imaginable.
This article can also be found on The GM's Perspective
Read more New York Yankees news on BleacherReport.com