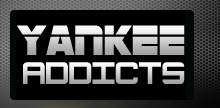 News published by
August 24, 2013
A-Rod, A-Fraud or Alex Rodriguez. There was a time when Alex Rodriguez was widely considered the best baseball player alive. Those days are long gone. We are now reduced to Oompa ...
May 15, 2013
Vidal Nuno was drafted by the Cleveland Indians in the 48th round of the 2009 MLB draft from Baker University. He had spent five years in the minors until ...
January 24, 2013
You can never have enough pitching. And the New York Yankees have proven over time that they will sign anyone from anywhere if they think they can help ...
January 8, 2013
The five-time Atlantic League Champion Somerset Patriots have hired Shane Spencer as their hitting and third base coach. For those who don't remember, Shane Spencer was in large ...
October 18, 2012
Barry Bonds is the ultimate villain in baseball and the significance of his accomplishments never garnered the respect it deserved; 7 MVP awards, hammering a single season record ...
August 3, 2011
Alex Rodriguez never seems to be out of the headlines. Whether he is dodging reporters while hanging with mysterious blondes in Toronto, dating superstar actresses, or confessing to ...
July 22, 2011
Rumours are running rampant about baseball losing it appeal to masses. Except through nearly 50 games, total attendance is nearly on par with 2010 (36,594).  If everything is ...
November 18, 2010
I previously wrote that Derek Jeter is as reliable as they come.  That is correct despite some commenting that his lack or decline of defensive skills makes him a liability. Both ...
November 14, 2010
Derek Jeter provides zero risk to any club lucky enough to have his services. In light of Jeter's down year, fans, experts, statisticians, managers and GMs have all thrown in their ...
October 28, 2010
If you look at the Yankees' 2010 season with an objective lens, this team was lucky to get past the first round of the playoffs.  This so-called dynasty is ...