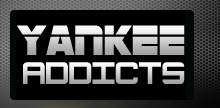 April 27, 2010 · Perry Arnold · Jump to comments
Article Source: Bleacher Report - New York Yankees
New York Yankees General Manager Brian Cashman hit the headlines with a "blockbuster" trade in the offseason that brought Curtis Granderson to the Bronx.
The Yankees gave up one-time first round draft pick, starting pitcher, Ian Kennedy; left handed reliever, Phil Coke; and top prospect outfielder, Austin Jackson, to the Detroit Tigers.
Coke is 3-0 in Detroit coming out of their pen.
And if you haven't checked on AJax lately, he's playing pretty well!
He has played in all 19 games for the Tigers. He has 83 at bats, has scored 14 runs, has 27 hits, five doubles, two triples, one home run and six RBI. He is hitting .325 with an OBP of .385 and an OPS+ of 129. He has also struck out 32 times, which means more than once every time he comes to the plate.
Meanwhile, the advent of Curtis Granderson as the great center fielder the Yankees had been seeking since Bernie Williams' retirement has not gone so well.
Granderson is hitting .246, 79 points lower than Jackson.
One must wonder why Cashman was so anxious to bring Granderson in and why he was willing to give up so much.
Granderson, after all, only hit .246 last year with 141 strikeouts. He did hit 30 home runs but his OPS+ was mediocre at 100.
Jackson had been touted as the best prospect in the Yankee system for the past four years. He was obviously ready to take the big stage and has shown that in Detroit.
This is just another example of the Yankees being too impatient to develop their own talent and too anxious to grab up a player from another team who really has not shown that he is great.
Austin Jackson is a name that should remain in the minds of all Yankee fans.
Lets hope that names such as Jesus Montero and Austin Romine are not treated as badly as Austin Jackson was by the Yankee management.
Read more New York Yankees news on BleacherReport.com