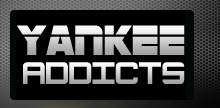 May 11, 2009 · Harold Friend · Jump to comments
Article Source: Bleacher Report - New York Yankees
The Yankees were playing the Athletics in Oakland on May 31, 1988 in a battle of division leaders. Rookie left-hander Al Leiter started for the Yankees, but he faced only one batter because his first delivery to Carney Lansford was lined right back from where it came,
The drive hit Leiter on his left forearm and landed a few feet away. Al picked up the baseball, made an errant throw towards first base, and Lansford wound up on second with no outs. Leiter could not continue.
Neil Allen Enters With No Outs in the First Inning
Neil Allen came in to pitch. He retired the A's without a run in the first inning, and didn't allow a hit until Jose Canseco hit a bouncer up the middle with one out in the seventh.
The former Met blanked the A's the remainder of the game to accomplish the unusual feat of pitching a shutout but NOT a complete game.
Babe Ruth Was Ejected, Suspended, and Fined
On June 23, 1917, in the first inning of a game he started against Washington, Boston's Babe Ruth walked Washington lead off batter Ray Morgan.
Ruth was not enamored with home plate umpire Brick Owens' call of ball four, and he protested the call so vehemently that Owens ejected him as well as Boston catcher Pinch Thomas.
Ruth hit the umpire with a glancing blow, which resulted in a ten-day suspension and a $100 fine.
Ernie Shore Pitched a Shutout
Ernie Shore came in to pitch and Morgan immediately took off for second. He was thrown out by replacement catcher Sam Agnew for the game's first out, as Shore proceeded to retire the next 26 Senators.
Ernie Shore was credited with both a no-hitter and a shutout. The no-hitter can be questioned, but the shutout cannot.
The Rule
Rule 10.19 (f) states that "No pitcher shall be credited with pitching a shutout unless he pitches the complete game or unless he enters the game with none out before the opposing team has scored in the first inning, puts out the side without a run scoring and pitches all the rest of the game."
Perfect Game, No-Hitter, Complete Game?
Neil Allen and Ernie Shore both pitched shutouts. How can Shore be credited with a no-hitter if he didn't pitch a complete game?
Baseballlibrary.com counts it as a perfect game, ESPN gives it special mention but does list it among perfect games, and Baseball-Almanac.com does not consider it to be a perfect game.
Ernie Shore did not start the game and faced only 26 batters. Ray Morgan was caught stealing while Shore was on the mound, but paradoxically, Morgan was not Shore's base runner.
If Shore had walked Morgan, Shore would have pitched a no-hitter, but Ruth walked Morgan. Shore retired only 26 batters, so no no-hitter.
Shore's performance met the criteria for a shut out. It did not meet the criteria for a complete game, and quite simply, how can a pitcher pitch a perfect game but not pitch a complete game?
Better yet, how can a pitcher pitch a shutout but not a complete game? Maybe Shore did pitch a no-hitter.
References:
By MICHAEL MARTINEZ Special to The New York Times. (1988, June 1). What a Relief, Allen Goes 9 :Yankees 5 Athletics 0 Allen Saves Yanks. New York Times (1857-Current file),p. D29. Retrieved May 11, 2009, from ProQuest Historical Newspapers The New York Times (1851 – 2005) database. (Document ID: 115703038).
Nemec, David. The Official Rules of Baseball Illustrated. New York: Globe Pequot, 2006.