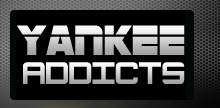 June 18, 2009 · Nick Poust · Jump to comments
Article Source: Bleacher Report - New York Yankees
"Oh, what a shot…he crushed it!" were the words of Michael Kay, the Yankees broadcaster on the YES Network, describing Washington Nationals slugger Adam Dunn's long home-run deep into the right-field seats. Given the green light to swing away on a 3-0 pitch, Dunn was looking fastball. He received it from New York Yankees maligned starting pitcher Chien Ming Wang, a fastball in his wheelhouse. Prior to the blast, Kay was talking about Dunn, saying that "he gives them a different component." The Nationals first baseman made sure the Yankees knew what that component was. The longball was the 297th of his career, and it backed John Lannan, who was facing his once favorite team.
Lannan, 24, was born in Long Beach, New York, and grew up idolizing the Yankees. After being drafted in the 11th round by the Montreal Expos, he spent his first full professional season with the Savannah Sand Gnats, their Single-A (short season) affiliate. He wasn't overpowering, rarely touching 90 on the radar gun, and didn't put up spectacular numbers, but a 6-8 record and a 4.70 ERA while boasting a wide array of effective pitches earned him a promotion.
The 6′5″ lefthander took advantage, and finished the season in Triple-A. In total, Lannan's minor league record was 12-5 with an ERA of 2.35. He had his fair share of walks, and didn't strikeout many opposing hitters, but kept the runs at a minimum. So, at 22 years old, with 19 minor league starts to his credit, Lannan was called up to the majors.
His first start didn't go as planned. Clinging to a 3-2 lead, Lannan, nervous and invigorated, plunked the Philadelphia Phillies' Chase Utley and Ryan Howard consecutively in the fifth inning. He wasn't given the benefit of the doubt by the umpire, as Hunter Wendelstedt tossed him immediately. Lannan bounced back from this surreal debut to collect his first win, defeating the Cincinnati Reds with a solid five innings pitched.
His first two games were memorable, but his 'Welcome to the majors' moment came when he faced Barry Bonds' San Francisco Giants in his third start. Bonds', two games removed from breaking the all-time home-run record, was baffled by the rookie. He was held hitless. Lannan's final hitter was Bonds, and he capped a brilliant performance by striking out the slugger to keep a one-run lead intact. This was the defining moment of his rookie season. The 324th selection in the 2005 Major League Baseball draft was, without question, the future of the Nationals.
Since that fateful day, Lannan has been Washington's ace. In 2007, his first full season, Lannan was tremendous, though his record didn't show it. He was an abysmal 9-15, only because of poor run-support, as his ERA was a above average 3.91.
His 2009 campaign was eerily similar entering his outing against New York. He carried a 4-4 record into the new Yankees Stadium, but those numbers were misleading. His 3.51 ERA was a true testament of his talent. His fastball still rarely hits 90 miles-per-hour, but it certainly fooled the Yankees.
Fastballs don't have to been thrown hard to be effective. To beat a team like New York, which feasts on fastballs inparticular, it needs to have late life and have precise location. Lannan had both. Though he used his heater-if it can be referred to as such-a majority of the time, the Yankees had an equally difficult time figuring out his offspeed pitches.
His curveball had New York's heavy hitters shaking their heads, while his slider befuddled them even more. He painted the corners superbly, which wasn't more evident than during his at-bat with Melky Cabrera in the eighth inning. Lannan missed low with two straight fastballs, then fired in a strike on the outter half of the plate. He missed for ball-three, just high. The final two pitches epitomized his dominant outing. The count went full as Lannan threw another fastball, grazing the lower portion of the strikezone. The sixth and final pitch of the at-bat appeared inside, but as a lefthander, the fastball swept over the plate. Cabrera didn't complain, making the lonely walk back to the dugout after Lannan's 97th pitch pounded into Will Nieves' mitt. Eight innings were complete, and a two-run lead was his.
Then came the ninth inning. Lannan became mortal as he tired, leaving a lazy fastball in the heart of the plate. Johnny Damon licked his chops, and took a powerful whack. It was over the fence before Lannan could turn around. The Yankees had life. He kept his composure, getting Nick Swisher to fly out. He couldn't retire Mark Teixeira, who would turn out to be his final batter, allowing a single.
Manager Manny Acta, undeservedly on the hot seat, didn't let his prized pitcher finish what he started, pulling him two outs away from his second career complete game. Part of the reason may have been the fact that Alex Rodriguez, New York's power threat, could tie the game with one powerful swing. Yet, he shouldn't have been intimidated by Rodriguez, as the third baseman entered the at-bat with just three hits in his past 26 at-bats.
After Teixeira's pinch-runner Brett Gardner swiped two bags, Rodriguez walked. Now, Robinson Cano could turn a stellar start by Lannan into a disappointing loss. Cano saw eight straight fastballs from reliever Mike MacDougal, then, on the ninth, gave Lannan his win by hitting a grounder to shortstop Cristian Guzman, who flipped it to second baseman Anderson Hernandez, who then routinely tossed it to Dunn at first. Double play, game over.
Lannan, wearing a Nationals sweatshirt, jogged onto the field clapping his hands, sending a fan-base he was once apart of home.