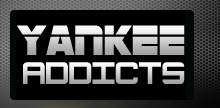 May 21, 2009 · Marisa Scolamiero · Jump to comments
Article Source: Bleacher Report - New York Yankees
For the past couple of months, I've listened to other people's accounts of their visits to the new Yankee Stadium. I've looked at pictures, watched on TV, but hadn't experienced it for myself.
When the game I was supposed to go to on April 20 was rained out I wasn't sure when I'd get to the stadium.
Two weeks ago, I found some good tickets and was going to take my cousin to the game as his college graduation gift. One day after I purchased the tickets he informed me that he forgot that he had to attend a dinner at his girlfriend's school.
I was looking at the possibility of not being able to go again, and I had to figure something out fast. My dad happened to be sitting next to me when I got the word that my cousin couldn't go, and he offered to step in.
It's a rare occasion when my dad and I get to go to a game just us. I've been watching games with my dad for as long as I can remember. No one else is requiring his attention, and for a few hours it's all about baseball.
Tuesday night we headed to the Bronx, and were set to check out the Yankees' new house.
Over the past five years, I'd become so familiar with the old stadium that I could find my way through there with my eyes closed. Now I was in unfamiliar territory.
My friend, Joe, had warned me that I would feel somewhat strange when I stepped foot into the new stadium, and he couldn't have been more right.
I was in such awe of the stadium, I almost forgot I was going to a baseball game. As we walked through Gate 4 and into the Great Hall I couldn't believe how much space there was to walk. People weren't trying to squeeze past each other, and there was a clear view of everything in front and in back of you.
The banners of the Yankee greats that hang in there were probably one of my favorite things that I saw. The old time Yankees like Ruth, DiMaggio, and Gehrig appear in black and white, while more current legends like Jackson, Munson, and Mattingly are on the opposite sides in color.
Once we walked through there our first order of business was simple. Get a hot dog. The Nathan's hot dogs more than passed the test for a good ballpark dog, and now we could start our tour of the place.
For over an hour and twenty minutes we covered a lot of ground. We tried and failed to eat in NYY Steak and the Hard Rock Cafe. The lines for the museum and Monument Park were both too long, and we voted in favor of checking everything out rather than wait in line.
We sampled several concessions including pulled pork sandwiches at Brother Jimmy's BBQ (which I highly recommend), as well as the Lobel's steak sandwich. We rounded off our pre-game eating and drinking with a quick stop in the Tommy Bahama Bar, which is a very spacious bar with several TVs, and plenty of room to stand.
At 6:50, we headed to our seats on the second level. We were almost directly behind the Yankee dugout, so we had a great view of the entire field. The field looked exactly the same, which gave off the feeling like a part of the old stadium was still there.
Some things hadn't changed at all. The Bleacher Creatures still did their role call as the first inning was underway, the grounds' crew performed the YMCA while they swept the dirt during the sixth inning, and Kate Smith's voice still filled the stadium with "God Bless America" for the seventh inning stretch.
What I liked the least was that Monument Park is no longer in left center field but in straight away center field. You used to be able to see straight into Monument Park from the stands, but now it is somewhat hidden in center field.
I found myself looking out to the left field stands for the out of town score board, but all I kept seeing were advertisements. The out of town score board now resides in the monitor in right field and gives detailed analysis of each game in digital form.
It was a pretty spectacular night. Sabathia pitched a gem, despite giving up one run in the first inning.
My dad turned to me in the bottom of the sixth inning and said he had hoped that the offense would do a little more in support of Sabathia. I assured him that they just needed to hear "God Bless America", and then they'd score some runs.
Sure enough, the Yankees came alive in the bottom of the seventh. The captain broke the game open with a bases clearing double to make it 6-1.
Johnny Damon scored Jeter with a double of his own, and then Mark Teixeira hit a monster home run to put the Yankees up 9-1. Brian Bruney made his first appearance since coming off the DL, and the Yankees wrapped up their seventh win in a row.
The night couldn't be complete, however, without one more thing…
Before heading for the car, my dad and I got some Carvel ice cream in a Yankee souvenir cap. A Yankee win on my first visit to the ball park, a great tour of the new house, a game with my dad, capped off with some Carvel.
Not a bad night at all.