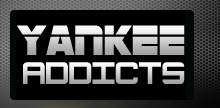 March 8, 2010 · Bronx Baseball Daily · Jump to comments
Article Source: Bleacher Report - New York Yankees
According to George King of the New York Post , after seeing the team doctor yesterday, Yankees backup catcher Francisco Cervelli plans to meet with a neurologist this afternoon.
Cervelli is recovering from a concussion he sustained after being hit by a pitch in the head the other day.
"I talked to him and he said he felt good," manager Joe Girardi said. "After he sees the neurologist, he can do some light stuff at the ballpark. (Today) is a big day for him. I want to hear what the neurologist has to say before making a decision."
The belief is that it won't be too long until Cervelli returns to action, but the Yankees are going to base his return off of advice from the doctor. So at this point it is hard to say exactly how long he will be out for.
Complicating the situation is the fact that Cervelli sustained another concussion this offseason while playing winter ball, so the Yankees are certainly going to take precaution with him.
If he is not ready for the season, it is likely that they will use veteran backup Mike Rivera (we'll have a player profile on Rivera soon, so check back for that) as their backup catcher at least until Cervelli is ready to go.
Related Stories
Read more New York Yankees news on BleacherReport.com