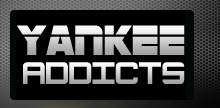 May 2, 2009 · Andrew Zercie · Jump to comments
Article Source: Bleacher Report - New York Yankees
So far this season, the New York Yankees pitching staff could be described as baseball's spaghetti western: they're "The Good, the Bad and the Ugly."
Yet, after their rousing, come-from-behind-despite-leadng-early 10-9 win over the Los Angeles Angels of Anaheim of Orange County of California of the United States of America, the Yankees have won four straight, and they seem to be building momentum.
Down 9-4 in the seventh inning, and with the "boo-birds" making their presence felt, the Yankees' chances of defeating the Angels were slipping away.
Not helping matters, Mark Melancon and Jose Veras showed us "The Ugly" side of relief pitching in the middle innings.
Almost untouchable in his first two outings, Melancon couldn't strand runners that Andy Pettitte left on base in the sixth inning, allowing the game-tying run to score. Jose Veras got two outs in the seventh, and he pushed the score from 6-4 to 9-4.
Down to their final six outs, the Yankees rallied to score four runs in the bottom of the eighth inning. Ramiro Pena, doing his best to make us all forget Alex Rodriguez, had a key two-run single.
Heading to the ninth inning, the score was 9-8 in favor of the Angels. Representing "The Good," Edwar Ramirez and Jonathan Albaladejo kept the Yankees in the game in the last two-plus innings. Ramirez tossed 1.2 shutout innings, stabilizing an ugly seventh inning mess left behind by Veras. Albaladejo then kept the Angels at bay in the ninth.
Then, the Yankees rallied to score twice in the ninth inning against Angels' "closer" Brian Fuentes. Fuentes allowed three hits and a walk and didn't record an out. Jorge Posada drove a liner to the left-center gap to plate the game-winning runs, giving the Yankees their first walk-off win in the short history of Yankee Stadium, Version 3.0.
Joe Torre was famous for saying momentum is only as good as the next day's starting pitcher. As great as this win was, the Yankees need to get the Cy Young-caliber version of CC Sabathia on Saturday against the Angels.
Then, Phil Hughes needs to have a strong game on Sunday. Then, Boston comes to New York, followed by a series with the Tampa Rays. Inconsistent performances from the rotation aren't going to cut it.
The Yankees are better than advertised. While they have a negative run differential, that has been inflated be a couple ugly losses. On offense, they're in the top three in nearly all the major categories without Alex Rodriguez and without much from Mark Teixiera.
But, to continue their run, they'll need the pitching to step up. Perhaps last night's efforts from Ramirez and Albaladejo are signs the Yankees' pitching is coming around.