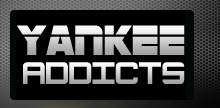 March 22, 2010 · Bronx Baseball Daily · Jump to comments
Article Source: Bleacher Report - New York Yankees
Here's a quick 3:15 video of Yankees pitcher Phil Hughes discussing the grips he uses on his pitches and some of the different change-up techniques he's using.
The video was shot by Marc Carig of The Star-Ledger .
Very cool stuff, especially if you are not familiar with pitching grips. Hell, even if you are familiar, it's pretty cool. You definitely want to check this one out.
Bonus : After watching that video, what grip is Hughes using in the picture above?
(click on the headline to view the video ).
Yankees pitcher Phil Hughes shows how he holds the ball
Related Stories
Read more New York Yankees news on BleacherReport.com