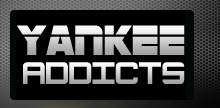 November 16, 2011 · Michael Moraitis · Jump to comments
Article Source: Bleacher Report - New York Yankees
With the New York Yankees having pieced together their rotation in 2011, it's a certainty that they will be looking for more stable answers from their starting pitching.
One of the names that have popped up in all the speculation is Jair Jurrjens, the Atlanta Braves upstart young pitcher who impressed many around the league with great numbers last season.
Due a raise and with some injury concerns, Jurrjens is being shopped by Atlanta this offseason in hopes they can bring back some prospects and other talent in return.
No surprise the Yankees will be involved in trying to land Jurrjens, a 25-year-old with a ton of upside.
Here's why the Yanks should definitely make that deal.