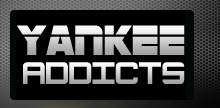 December 19, 2012 · Ely Sussman · Jump to comments
Article Source: Bleacher Report - New York Yankees
Before the 2012 holiday season gives way to the 2013 regular season, the New York Yankees need to make a significant trade. Sending Curtis Granderson to the Atlanta Braves would be in the team's best interest.
Granderson, who turns 32 in March, has played center field in the Bronx for each of the past three seasons. He's a terrific clubhouse influence who generously gives his time to local communities as well as programs that help baseball grow internationally. An asset on the field, too, the "Grandy Man" finished fourth in the 2011 AL MVP race and has totaled 108 home runs in pinstripes.
Putting balls in play is becoming a struggle for him, however, and when healthy, Brett Gardner is a superior defensive player. The Yankees aren't likely to re-sign Granderson after his contract expires this fall.
He definitely fits into Atlanta's short-term plans. The Braves want to shift Martin Prado back to third base and acquire a veteran player to replace him in left field.
Atlanta expects to contend for a championship in 2013 and doesn't mind adding an impending free agent. In fact, Ken Rosenthal of Fox Sports learned from a major league source that the Braves were "aggressive" in their pursuit of Shin-Soo Choo, who has since been dealt to the Cincinnati Reds.
Many of the remaining free-agent outfielders are either platoon players, completely immobile or looking to sign for more than the $15 million left on Granderson's deal. With such underwhelming alternatives, Braves general manager Frank Wren will be tempted to discuss a deal with New York's Brian Cashman.
The Yankees obviously need a catcher. Russell Martin signed with the Pittsburgh Pirates, while Francisco Cervelli and Chris Stewart should only be considered backup backstops.
Think about this arrangement—Granderson for Brian McCann and Jonny Venters.
McCann underwent shoulder surgery in October that might keep him sidelined into April. All the better for manager Joe Girardi, who could use those first few series to determine whether Cervelli or Stewart is more deserving of the second-string role.
When back at 100 percent, McCann will make an awesome offensive impact. Sure, he's a slower baserunner and lesser power source than Granderson. However, his contact ability and plate discipline compensate. He maintained an .850 OPS from 2006-2011 en route to six consecutive NL All-Star selections.
And Venters could be even more valuable in the long run. He's under team control for another three years and already established as an elite setup man. The southpaw has mid-90s fastball velocity, a devastating slider and success against batters of either handedness.
Combining McCann's $12 million salary and the $1.4 million arbitration cost projected for Venters (via MLB Trad Rumors ), Cashman would have an extra $1.6 million to spend this winter.
Perhaps that would help him deter Scott Hairston from re-signing with the crosstown New York Mets.
Read more New York Yankees news on BleacherReport.com