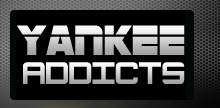 November 17, 2011 · Chris Sbalcio · Jump to comments
Article Source: Bleacher Report - New York Yankees
Thus far, it has been a rather slow start to the MLB offseason. Apart from the Yankees re-upping with CC Sabathia and the Phillies scooping up Jonathan Papelbon, there hasn't been a whole lot going on to really get the hot stove burning just yet.
So, that leaves everyone from MLB insiders to the common fans patiently waiting for the next major move, leaving their minds to wander and fantasize about possible free agent signings and trade scenarios. Included in many of those fantasies is Cuban outfield sensation Yoenis Cespedes.
For those of you unfamiliar with Cespedes, as I was until about two weeks ago, he is a 26-year-old center fielder who defected from Cuba this past summer. He is described as being a five-tool player, one who possesses an above-average skill-set with his abilities to hit for power, hit for average, run the bases, field and throw.
At 26 years old, this is a set of talents that will come very cheaply for certain clubs, with his still "unproven" ability at the major league level. Those clubs would be the ones with which money is not much of a concern, i.e. the Red Sox, Angels, Rangers, Phillies, Nationals, Cubs, Dodgers, and yes, the Yankees.
Apart from the Angels and Yankees, all of these clubs have spots in the outfield that are either vacant or not quite set in stone, so the offers to Cespedes should be plentiful.
The Angels have a bit of a logjam already, with Torii Hunter, Vernon Wells and Peter Bourjos making it difficult for the organization to promote baseball's 2011 number one prospect, Mike Trout; they're likely out of the mix, but what about those ever-present Yankees?
Yes, the Yankees already have an elite center fielder in 2011 MVP-hopeful Curtis Granderson, with Brett Gardner and Nick Swisher doing fine jobs in left and right field, respectfully. However, questions surround both corner outfielders.
Brett Gardner, while quite possibly the fastest baserunner in MLB, has some issues offensively, and if he can't get on base, what good is that speed? Sure, he should have won the 2011 Gold Glove for left field, but defense only goes so far when it comes to the outfield.
Nick Swisher, on the other hand, has vastly improved his defense in right field while also carrying quite the powerful bat—during the regular season.
Swisher has been with the Yankees for the past three years, and every year he has put up more-than-respectable numbers during the regular season, but once the Yankees inevitably hit the playoffs, he falls apart and seemingly can't hit a beach ball with a tennis racket when he comes up to bat.
This kind of incompetence during the most crucial time of year is causing many to wonder if Swisher may have seen his last at-bat in pinstripes.
The one caveat to this ideology, however, is that the Yankees picked up Swisher's $10.25 million option for 2012 earlier this offseason. Why would the Yankees pick up that option if they no longer wanted Swisher to man right field at Yankee Stadium?
Well, perhaps they thought that they could find a better reward than that extra $9.25 million ($1 million buyout) on the trade market. After all, it's not like Swisher is a bad player, he just chokes during the postseason. The Yankees could probably fetch a hefty return if they were to orchestrate a trade centered around him.
So, on top of receiving a package of minor leaguers, or maybe a 3- or 4-starter for their rotation, by trading Swisher the Yankees would also be able to get a little younger while simultaneously cutting salary.
Swisher, as previously mentioned, is making $10.25 million in 2012, while Cespedes will likely sign a contract similar to Aroldis Chapman's 6-year $30.5 million deal, earning an annual salary less than half of Swisher's. Younger, cheaper, and perhaps more talented and more productive; what's not to like?
I'll even put together a potential trade scenario. Let's say the Yankees trade Swisher and prospect Adam Warren (with maybe a PTBNL) to the Braves for starting pitcher Jair Jurrjens. Jurrjens is a very young, very talented right-hander who is fresh off an All-Star season with a second half plagued by injury.
The Braves are shopping him, and if he can stay healthy, any team acquiring him could be getting a definite 2- or 3-starter, maybe even a potential ace. Worth it? I'd say so.
So, to summarize, the Yankees trade Swisher to the Braves, acquire Jair Jurrjens to plug into their rotation, and sign the phenom Yoenis Cespedes to play right field. Dream scenario? Maybe, but over the years I think we've all learned that when it comes to the New York Yankees, anything's possible.
Read more New York Yankees news on BleacherReport.com