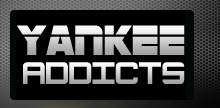 November 22, 2011 · Michael Moraitis · Jump to comments
Article Source: Bleacher Report - New York Yankees
The most consistent speculation we've heard during the offseason has been a possible trade between the New York Yankees and Atlanta Braves, possibly including young starter Jair Jurrjens.
Nothing has been confirmed yet, but recently the New York Daily News reported that the Braves contacted the Yankees about a possible deal involving Eduardo Nunez. I'm only inclined to speculate Jurrjens would be what the Braves offer in return.
If that is what the Braves are offering straight-up for Nunez, it's a deal that I still would be wary of.
Jurrjens is only 25, so he has a ton of upside for the Bombers. But with two injury-plagued seasons in a row, he is no certainty moving forward. The Yanks certainly can't afford to hang their hat on another injured starter who might only make 20 to 25 starts.
Jurrjens has been up and down in his young career, and I'd have to see a little more consistency before I can say he'd be worth any deal involving some of the Yanks' best young players.
Jurrjens is arbitration eligible next season and will become a free agent in 2013. There is no long-term risk for the Yanks here, that is unless of course Nunez becomes the star many scouts thought he could be. Clearly, the Braves think very highly of him.
Nunez may be horrible defensively, but with more time in the field, I think he can play a better shortstop or whatever position the Yankees see fit to put him at. That being said, Nunez proved he could swing the bat with a .265 average, a good number for a rookie.
While Derek Jeter was hurt this season, Nunez filled in nicely, showing he can swing the bat and be a dangerous gap hitter with base-stealing ability. He also had a knack for getting some big hits in big spots for the Yankees. I think he's worth holding on to, considering Jeter won't be around forever.
Besides, with the value a young player like Nunez can carry, the Bombers could package him in a trade for an elite pitcher down the road when one becomes available.
The Yankees should just stay put for the time being and not make this move. Most likely Atlanta will look for more than just Nunez in a trade with speculation they are looking for a Zack Greinke-type deal full of other top prospects.
That kind of asking price will make this a deal the Yankees must refuse.
As far as other starters are concerned, I don't expect the Bombers to do anything big.
C.J. Wilson's asking price at a reported $20 million a year is way too much and not worth the risk of bringing in another guy who can't pitch in the playoffs.
Forget about Yu Darvish for obvious reasons, as we've seen what Japanese pitchers can't do in the Major Leagues.
Roy Oswalt's injury concerns are too much to overcome, and his asking price won't be worth the risk either. If they rely on Oswalt, get ready for another season of relying on Phil Hughes and A.J. Burnett to carry the load.
Edwin Jackson? He has New York failure written all over him.
The best choice, in my mind, remains Mark Buehrle. With a combination of a work-horse mentality, experience and past playoff success, he is no doubt the best value on the market at this point.
When it's all said and done, don't be surprised if the Yankees do less than you thought they would. GM Brian Cashman will not make a move out of desperation and will wait for the right thing to come along.
Whatever that may be.
@michaelmoraitis
Read more New York Yankees news on BleacherReport.com