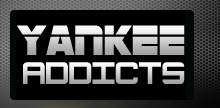 February 16, 2012 · Zachary D. Rymer · Jump to comments
Article Source: Bleacher Report - New York Yankees
New York Yankees fans will be glad to learn that A.J. Burnett will likely be on his way out of the Bronx very soon.
The buzz concerning Burnett on Thursday is that the hard-throwing righty is close to being dealt. In fact, Jim Bowden of ESPN has it on good authority that Burnett could be dealt in the next 24 hours, but that there is also a mystery team in the mix:
It's not at all surprising that there's another team besides the Pittsburgh Pirates in the mix at this juncture. The Pirates are still the favorites to land Burnett, but there's no reason for Yanks general manager Brian Cashman not to work the phones and try to find a sweeter offer.
ESPN's Buster Olney was able to narrow down which teams should be excluded from the "mystery team" chatter:
Olney also notes that the Los Angeles Angels have been out of the Burnett picture for several weeks:
Abreu would have been a good DH pickup for the Yanks. Unfortunately for them, going to the West Coast is a no-no for Burnett, according to the New York Daily News.
I'm going to go out on a limb and guess that the mystery team that made the Yanks an offer on Wednesday is an East Coast club. I would speculate further, but there's just not a whole lot to go off.
Mystery team or no mystery team, Jon Heyman of CBSSports.com reported today that the Pirates are still leading the chase for Burnett and that they and the Yankees have already worked out the numbers:
Ken Davidoff of Newsday reported that the Yankees and Pirates already have a package of players based around that money arrangement:
A source told Wallace Matthews of ESPNNewYork.com this week that the Pirates would have to pay less if they gave up better players. That same source said the Pirates were initially looking to pay just $10 million of the $33 million remaining on Burnett's salary.
Matthews' source told him that "top-level prospects" would help the Pirates stay closer to the $10 million mark. Since they're only going $3 million over their desired mark, the logical conclusion is that the Yanks would be getting a decent piece or two in return for Burnett from the Pirates.
All of this is liable to change in the next 24 hours, and possibly beyond, but it's pretty hard to imagine Burnett opening the 2012 season in pinstripes. The Yankees don't need to deal him, but trading Burnett would be the best thing for everyone at this point.
If and when he is dealt, I doubt he'll be missed very much in New York.
Read more New York Yankees news on BleacherReport.com