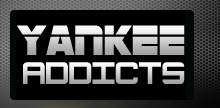 December 7, 2011 · Michael Moraitis · Jump to comments
Article Source: Bleacher Report - New York Yankees
If you're a New York Yankees fan, then of course trading A.J. Burnett is a good sign because he won't have to keep hurting the team starting in 2012. It's two years earlier than most of us Yankees fans could hope for.
I'm not surprised the Bombers are looking to deal their troubled, overpaid starting pitcher considering other than a strong showing in the 2009 season and especially in the 2009 World Series, Burnett has been a total failure.
I know it's hard to call a guy a failure when he helped you win a World Series, but Burnett has been so bad the past two seasons that it's hard to look past his recent struggles and into the minimal positives of his Bronx tenure.
New York felt they needed to sign Freddy Garcia to fill out their rotation because it probably wasn't looking promising they would sign a starter. But now with the news of Burnett being on the trading block, it makes you wonder if the Yankees have an opportunity to bring in another starter.
Clearly, they're making room for something else and have reportedly even offered to pick up about a quarter of his salary over the next two seasons, which would still leave $12.5 million to pay him over the rest of his contract for the team who receives him in a deal.
They will certainly have to do more than that if they hope to send him packing.
It's not clear who the Yanks might have a chance to land, but the team's general manager, Brian Cashman, did say there were no plans for Burnett to go anywhere in 2012. It's hard to imagine after a bold statement like that, they'd dangle him and offer to pick up some of his future salary without a plan to replace him with a better starter.
Read more New York Yankees news on BleacherReport.com