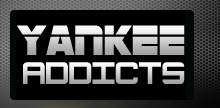 December 7, 2011 · Rick Weiner · Jump to comments
Article Source: Bleacher Report - New York Yankees
Three days after Thanksgiving, while most of us were still contemplating exactly how much food we ate and how we fit it all in there, Brian Cashman was back at work.
Or, at least on the phone—he very well could have been contemplating the same thing we were from his living room couch.
Cashman and his staff spoke with front office and scouting personnel from the Toronto Blue Jays and Philadelphia Phillies in regards to pitching prospect Kyle Drabek.
Drabek, who has struggled since being acquired by the Blue Jays in the Roy Halladay trade, is a worthwhile investment should the Yankees be able to acquire him.
After the jump, five reasons why that's the case.