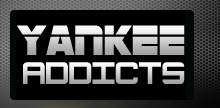 March 8, 2012 · Michael Moraitis · Jump to comments
Article Source: Bleacher Report - New York Yankees
When it's this early into MLB spring training, it's only natural to see New York Yankee story lines that, for all intensive purposes, are benign at best.
And, I must admit, I am guilty of such unimportant headlines, but sadly, I must let you in on any and all information pertaining to the Bombers, no matter how small or big it might be.
This way, you can never tell a journalist, "Hey, you missed that one."
So here are some of the more over-hyped story lines so far this spring, and whether they need to be monitored, or forgotten.