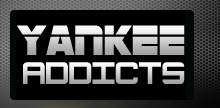 February 22, 2012 · Michael Moraitis · Jump to comments
Article Source: Bleacher Report - New York Yankees
One of the early problems many people found with the New York Yankees trading for starting pitcher Michael Pineda was the fact that he only had two good pitches. But only after a short time in spring training 2012, Jon Harper of the New York Daily News is reporting Pineda is beginning to prove he has the potential to be a three-pitch pitcher.
Pineda's catcher, Russell Martin, was happy with what he saw from his newest teammate the first time Pineda threw to Martin this spring.
"Joe gave me a call this offseason and said, 'We've got to get this guy to work on his changeup,'" said Martin, "But obviously he has worked on it because I saw a good one."
Pineda already features a devastating fastball and slider in his repertoire. But as Joba Chamberlain proved in his short time as a part of the Yankees rotation, you can't find too much success having command of just two pitches.
A changeup keeps hitters off balance and guessing, as Pineda changes his approach in the middle of an at-bat. A steady dose of hard stuff can make any pitcher predictable after a few times through the batting order.
Even Pineda admitted he needs another option to throw.
"I'm working hard on my change-up," he said. "I know I've gotta command it. It's my third pitch but I need it. It's getting better."
Seeing how Pineda is improving his third pitch will help ease some of the possible concerns that were created when Pineda might have come to camp as much as 20 pounds overweight. It appears Pineda was working on something during the offseason.
In no way is Pineda guaranteed to have the No. 2 slot in the Bombers rotation.
Sure, expectations will be high, but New York has to remember that Ivan Nova did have a better 2011 season and has also had success in the playoffs. Hiroki Kuroda also has more experience than Pineda and Nova combined during his four-year career, and could win the spot in spring training.
Even GM Brian Cashman believes Pineda is not ready to be second-in-command.
"I made the trade because I'm dreaming on the guy," Cashman said. "But it's going to take time."
Spring training has already begun and nothing in the rotation is guaranteed yet. But if he can continue to evolve into a three-pitch starter and improve his game, Pineda could have the stuff to be a candidate to back up CC Sabathia one day.
But that time probably won't be in 2012.
Read more New York Yankees news on BleacherReport.com