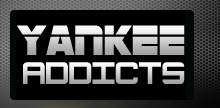 March 10, 2012 · Michael Moraitis · Jump to comments
Article Source: Bleacher Report - New York Yankees
In his second start of spring training 2012, Michael Pineda of the New York Yankees showed some control issues against the Atlanta Braves but still made some progress.
However, his issues were ones we didn't see in his first start against the Philadelphia Phillies.
Pineda didn't make it out of the third inning, and in 2.3 innings pitched, the Yanks' newest acquisition allowed one run on four hits and handed out three free passes to Atlanta.
Control was the major problem in Pineda's second start. After not allowing a single walk in his first outing, the young right-hander didn't bring the same command to the mound in this one.
However, it was encouraging to see that Pineda's velocity was up.
According to Andrew Marchand of ESPN.com, manager Joe Girardi mentioned Pineda reached as high as 94 MPH on the gun on Saturday, as opposed to the 92 he topped out at in his first start.
"My V-lo is coming right now," Pineda said.
It'll be interesting to see how consistent Pineda remains with his velocity. In the same report, Marchand also mentions work done by researcher Mark Simon, which shows Pineda's velocity change in 2011.
Last year, in his first seven starts, Pineda's velocity was at 95.8, according to researcher Mark Simon. In his final five starts, it was 93.1. In his final start, it was 90.6.
Any minor concerns over velocity can be put to rest if there were any.
Pineda's lower velocity has been something he has experimented with since last season, and it could continue in 2012. Doing so will help his control and keep him stronger later in games.
We'll have to see if it hurts his effectiveness overall. Pineda's dip in average velocity also coincided with some of his worst pitching of the season during the second half of 2011.
As I see it, that's one and one for Pineda this spring.
One solid start showing promise and a flash of dominance, while another start showed that work needs to be done. Expect this to be the process this spring as is the case with most young pitchers.
Just ask Jair Jurrjens.
The young Braves' right-hander was dreadful and over-shadowed Pineda's problems, walking six over 2.1 innings pitched and allowing three runs on five hits.
So even if you are a concerned Yankees fan over Pineda's latest start, it clearly could've been much worse. But with the progress he's shown in both starts, I have no doubt Pineda will be ready for 2012.
"I will be ready when the season starts," Pineda said.
There you have it!
On a side note, Marchand also reported that the Yankees will not have a limit on Pineda this season as was previously seen in the past with the "Joba rules."
"You are hoping you would get 200," Girardi said. "I would sign up for 200."
Read more New York Yankees news on BleacherReport.com